2019 NFL Draft: What you Need to Know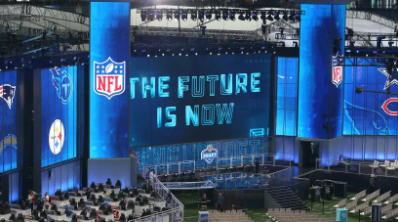 The 2019 NFL Draft is right around the corner with the first selections coming this Thursday from Nashville, Tennessee. It has been over two months since the Super Bowl, and teams have spent countless hours examining prospects that could help their team. For months, NFL fans have been stuck with countless mock drafts, rumors, combine data, etc. In this article, I will be examining some of the top storylines, as well as some of the top prospects, possible trades, and popular speculations in this year's draft.
Top Storylines:
Kyler Murray, Josh Rosen, Kliff Kingsbury
In this year's draft, the Arizona Cardinals hold the number 1 overall draft pick. The Cardinals, last year, finished with the worst record in the NFL going 3-13, with a humiliating 1-7 record at home. Last season saw the Cardinals using their newly drafted rookie quarterback, Josh Rosen, as their starting quarterback throughout the majority of the season. Many felt after the season that Josh Rosen underperformed to his standards. This season, Arizona signed former Oklahoma Sooners head coach, Kliff Kingsbury. Kingsbury coached the projected number 1 overall pick, QB Kyler Murray.
Possible Trades for Teams to Move Up or Down
We have already seen some big trades occur before the draft. We even saw one recently when Seattle traded DE Frank Clark to Kansas City for more picks in this year's draft. But during the draft, I see a couple of trades that aren't outrageous to think could happen. We have already heard the rumors of Arizona trading Josh Rosen to a quarterback-needy team, in order to draft Kyler Murray. Another possibility I see could happen is the Oakland Raiders trading one of their first round picks to move even higher and take a quarterback of the future, or a stud pass rusher which they both greatly need.
Will the Giants draft a QB with their 1st round picks?
One of the biggest stories in the NFL the past couple years is the controversy of the quarterback spot for the New York Giants. 38-year-old quarterback Eli Manning, who has two years left in his contract, has been the cornerstone of the Big Blue franchise and GM David Gettleman has been very open on keeping him on the field to play. While he has won two Super Bowl throughout his long career, his level of play has severely decreased over the last couple of years. Holding both the 6th and 17th picks in the draft, the Giants have several options. One option is pouncing on QB Dwayne Haskins, who has been open on his love of the Giants and could very well fall right into Gettleman's lap when the 6th pick comes around. While they could seek out the quarterback of the future, let us not forget when they selected Saquon Barkley with the 2nd pick in last year's draft when there was still Sam Darnold, Josh Rosen and Josh Allen all still on the board. If they end up passing on a quarterback this year, it could lead to both a media and fan nightmare for the New York football Giants.
What is the Deepest Position Group in This Year's Draft?
This NFL draft class has widely been regarded as one of the deeper classes in recent memory. Not to say that there are positions in which the talent is severely limited (Safety for example), but there are several positions in which teams can lose out on the player they originally wanted, and still find a very capable, promising NFL player. After looking at several mock drafts, combine results, and draft analysts, I would say the deepest position this year is easily the defensive line and more specifically pass-rushers. From phenoms Nick Bosa and Quinnen Williams to lower-tier studs such as Jaylen Ferguson, this is the year teams should stock up on pass rushers.
Who Are The Top Prospects Going Into the Draft?
Offensive Line: OT Jawaan Taylor, OT Andre Dillard, C Garrett Bradbury, OT/OG Jonah Williams, OG Chris Lindstrom
Skill Players (RB, TE, WR): TE T.J. Hockenson, TE Noah Fant, RB Josh Jacobs, WR Marquise Brown, WR D.K. Metcalf, RB David Montgomery
Quarterbacks: Kyler Murray, Drew Lock, Dwayne Haskins, Daniel Jones
Defensive Line: DT Quinnen Williams, DE Nick Bosa, DE/OLB Josh Allen, DT Ed Oliver, DT Jeffery Simmons
Linebacker Core: LB Devin White, LB Devin Bush
Secondary: CB Byron Murphy, CB Greedy Williams, S Jonathan Abraham, CB Rock Ya-Sin, S Taylor Rapp, S Nasir Adderley
How to Watch/Follow the Action:
This year's draft will be broadcasted on ABC at 8 P.M. ET. The first round will occur this Thursday, with the other rounds coming on both Friday and Saturday. For the first time ever, ABC is set to broadcast all three days of the draft, including two nights of primetime coverage, in a simulcast with NFL Network and ESPN.