Alaska's Willow Project Gains Nationwide Attention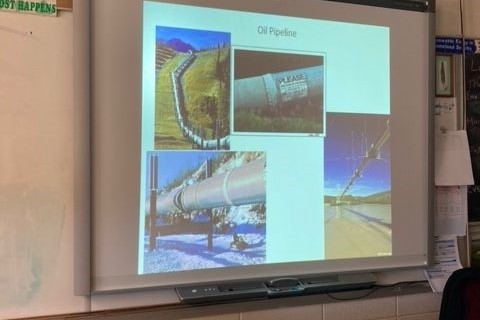 Conocophillips Petroleum Refineries Company recently proposed a multi million dollar plan to drill oil in Alaska, which has taken the media by storm.  
Planning to span for roughly 30 years, the site of The Willow Project will produce an estimated 240 tons of carbon dioxide, which sparks major concern over environmental damage.
For reference, one pound of carbon dioxide will fill a 25in by 30in cube, that is the equivalnet of a mid-sized to large fish tank. So 240 tons will equal 480,000 of those cubes.
The Willow Project has become a major topic of discussion among various social media platforms. Accumulating millions of views over the past few weeks #StopWillow now stands among Tik-Tok´s top 10 most trending searches, right behind Selena Gomez and Hailey Bieber drama.  
Despite the project´s planned location in Alaska, people from all over the country are becoming aware, including high school students in the South Windsor community who have looked into this issue as well.
One SWHS senior, Katelyn Baumgartener, is worried about the potential this project has to harm nearby Alaskans.
"
It's not worth the environmental cost and effect on the people who currently live in Alaska"
— senior Katelyn Baumgartener
Senior Ethan Pott has similar views to Baumgartener. ¨I'm totally against it; it's ridiculous that they're still considering [it],¨ Pott explained.
The project will be decades long and will consist of multiple drilling rigs that will bore a hole through multiple layers of rock until reaching an oil and gas reservoir. According to HowStuffWorks after this happens a steel pipe is dropped into the drilled hole to fill surrounding gaps with cement. Then the oil is slowly pumped up. 
This process is similar to most; however, the scale of the project is not.
According to CNN, the project plans to pump out a staggering 600 million barrels of oil from Alaska's North Slope. It will also cost $8 billion dollars. Those stats would make it the largest oil project on U.S land. 
ConocoPhillips, however, doesn´t see these numbers as a danger. The Corporation started Willow with the initiative to bring economic growth and fast energy supply to the U.S.
"As Alaska's largest oil producer, we are committed to responsibly developing Alaska's resources, providing economic opportunity for Alaskans, operating at the highest standards of safety and environmental stewardship," ConocoPhillips Willow Fact Sheet recounts.
Many still see the impact more damaging than these benefits. On Change.org over 4.5 million people have signed a petition to stop the project. 
One SWHS Science teacher, Mrs. Field, even incorporated the issue into her lesson plans after a student expressed the Willow Project to her.
"I chose to bring the project up in class because a student asked me about it," Field said. ¨Since it is a current environmental issue, I felt it was worth mentioning in class, especially since we've already covered fossil fuels." The ECE Environmental Science/ECE Marine Science teacher, finds importance in bringing current environmental issues to attention. 
In addition teaching, Field also has degrees in agricultural sciences. ¨If the project comes to fruition (and it's a big if right now), it's potential impact on the habitat in western Alaska could be considerable. It's a hard decision to make in terms of the global environmental impact."
Field believes that the issue is much larger than a simple yes or no and that research planning for not only the environmental aspects, but other ones need to be conducted.
¨There is a lot more to it than the U.S. just abruptly stopping all fossil fuel production. It's easy for environmentalists to just say, 'we should stop' without considering solutions to all of the interconnected issues beyond climate change that the word faces without the use of fossil fuels,¨ Field said.
One student from that class expressed that the in-depth discussion really helped her consider both environmental and economic points of interest, which opened her up to different viewpoints/ideas she didn't see when scrolling through social media. 
¨I feel a bit discouraged by everything that's going on. Social media often does not tell the whole story. Mrs. Field made me realize that," said senior, Sofia King.
Senior Jenna Wilder, also in Field's ECE Environmental commented, "It made me pay attention to the news when I heard about it, it's definitely eye opening. I think it's great we are talking about it.¨  
On March 13th, Biden gave a green light to approve the three drilling sites for the project. However, the project is still not 100% or even 50% ready to go. Action still remains uncertain. In 2017, the project planning spread five whole presidential administrations before its release in 2018. In 2020, the Trump administration approved the project, which was thrown out as unlawful by conservation groups in 2021.
Climate change is a topic that is interconnected to the water supply, the country's economics, pollution, and American's health issues.  The question remains, will this new project be too much for the environment?  What does this mean for our future?
Leave a Comment
About the Writer
Katelyn Drenga, Editor
Katelyn Drenga is a senior and second year journalism student at SWHS. She loves the outdoors but also is a fan of bingeing Netflix with friends. This year, Drenga is a section leader for News and Politics...