South Windsor is Swimming and Diving into the Season
This season, the South Windsor swim team is in a rebuilding year after four seniors graduated. Currently, there are no seniors on the team. Without the seniors, the team lacks a leadership spirit, but this leadership role is taken over by the juniors who have helped push the team to victory. 
Last season, Coach Laura McLaughlin focused on wasting no time in training and getting better and faster in the water. McLaughlin swam for East Hartford High School then swam for  Southern Connecticut State University. She's been coaching for 23 years and started coaching here in South Windsor in 2013. 
Practices consist of swimming and doing other cardio based work on land such as running for endurance and speed, which helps swimmers get better in the water. There is also muscle-based endurance work done like wall sits, squats, pushups, planks, and situps. This works the important full body muscles that are used in the water. The focus has been on pushing swimmers to constantly swim and wasting no time during their practices. 
Sophomore and member of the SWHS Swim Team, Dyan Baumgartner said, "I think the season has been good so far and it's gonna end well". Past seasons have gone very well for the team, with a positive record, like right now. Currently their record sits at a strong three wins and only one loss as of January 24th this season. 
South Windsor High has swimmers who fight in the water and push through and try to swim against the best. Swimmers try very hard and never ever give into exhaustion. Junior at South Windsor High School Greg Kratz says, "The season has been fun so far, everyone has tried their best". 
Soon they´ll go into the Central Connecticut Conference (CCC), and we can only wish them the best of luck, hoping that they do well. Their training this season will pay off in some good placements in this season's CCC Championships.
Leave a Comment
About the Writer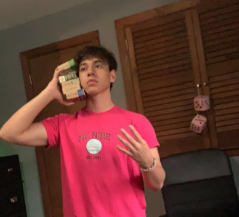 Anthony Sosa, Staff Writer
Anthony Sosa is a sophomore at SWHS. As a freshman, Sosa was part of the SWHS swim team. This year, he is planning to join the SWHS wrestling team. Sosa enjoys spending his free time with his friends....