Formula Drift: Highlighting Matt Field
When people think of Formula Drift, they obviously think of racing cars, but there is so much in the sport than it actually seems. This sport requires more skills than what comes to mind. The capabilities of these cars on the track are unbelievable. The ability to swing cars in a sideways motion and hold it against another competitor for more than 30 seconds is amazing.
The #777 Corvette is a race car driven by 23 year old professional drifter Matt Field, who has used this car since the 2018 Formula Drift season. It replaces his 1997 Formula Drift #777 Nissan 240SX, which sports a similar Falken Drift design. Matt's racing career started with racing quads and dirtbikes when he was 4. 
He earned his Formula Drift license at 19, becoming one of the youngest drivers to compete in the series. Matt still races off-road today and recently competed in the Mint 400 with his dad. It was also Matt's parents who instilled the importance of a college education and pushed him to finish his college degree. Matt's career doesn't just stop at formula drifting, he also is perfecting talents such as engine building, fabricating, and being a technician.
According to AutoEvolution, he recalls not even qualifying for the Top 32 battles, as he was still getting to grips with the high level of the competition. "When I showed up at the event, there were about 65 drivers and I showed up with a stock SR20DET with a T28 turbo. I had no idea what I was doing, it was a huge step for me," said Field. In the end, Field ended up placing 15th in the battle.
Auto evolution interviewed Matt Field, they asked Matt about the thing he loves most when driving the #777 Corvette and he said, "We are finally getting the weight balance and suspension dialed in, the car is extremely predictable. I know exactly where my rear tire is going to be, and I love the way it handles transitions."
Matt Field continues his career in drifting and gives advice to all the young kids who strive to be like Field. He said "I just want to remind the young drivers that we all got to where we are now because we got in it for fun. Drifting was the most fun thing for us and we loved it, it consumed our lives and now we're here. Don't get caught up in the mystical dream of being a professional drifter and focus on having a good time, learning the fundamentals, and enjoying the journey because that's what it's all about. If you wind up where you want to wind up, you were meant to be there. If not, at least you had one hell of a time."
Leave a Comment
About the Writer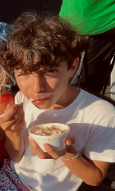 Andrew Kronenwetter, Staff Writer
Andrew Kronenwetter is a 15 year old sophomore at South Windsor High School. He lives off making people happy and driving with his friends.  Kronenwetter admires his family and prefers riding dirt bikes...