CDC Announces New Mask Mandates For Upcoming School Year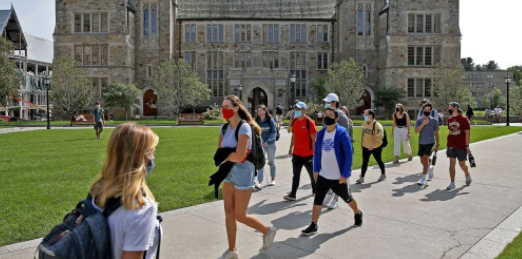 As COVID-19 vaccines are being distributed nationwide, businesses, schools and recreational sites are responding to what the CDC advises. 
After a long year of quarantine and masking everywhere, the CDC released new guidelines for those that have received any vaccination, saying "Fully vaccinated people can resume activities without wearing a mask or physically distancing, except where required by federal, state, local, tribal, or territorial laws, rules, and regulations, including local business and workplace guidance." As long as people received both shots of any of the three COVID vaccines, they are free to explore different places without a physical barrier.
Now, what does this mean for schools and colleges around the country for the Fall 2021 semester? 
With a wave of new incoming students, colleges must follow these same steps and prepare for the people coming on campus for the fall semester. "Some colleges have begun lifting indoor mask mandates, while others are keeping them in place for now," Elizabeth Redden says, a writer for Inside Higher ED. "Citing considerations such as a need to increase vaccination rates and the inability to determine who is or is not vaccinated."
American University, Boston University, Quinnipiac University, and 400+ more colleges are requiring that students get vaccinated before coming on campus next fall, and even more are still having mask mandates throughout the campus. 
However, people are worried about the upcoming fall 2021 semester and how safe these protocols actually are.
Leana Wen, a professor of health policy and management at the George Washington University Institute of Public Health says, "If you had talked to me a week ago, before the CDC guidelines were issued, or if you had talked to virtually any public health expert a week ago and asked us, 'Is it time to lift mask mandates on college campuses?' we would have said absolutely not," she said. "Nothing has changed since then other than the CDC's ill-advised, naïve and problematic guidance."
Even more are worried about the validity of people saying they are vaccinated, when in reality, they are not. "the practical limitation in the CDC guidelines is that we do not have the ability to differentiate those who have been vaccinated from those who have not," M. Roy Wilson, president of Wayne State University says. 
All these concerns are nationwide issues, and hopefully students can return to safety on their college campuses for the year.