Remains of Missing Mother from South Windsor Found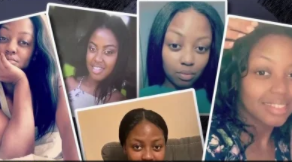 After celebrating her first Mother's Day this May 9th, mother and South Windsor resident Jessica Edwards had disappeared, with no one being able to track her whereabouts. After hours of unsuccessful search efforts, Edwards was reported missing by her family the following day, May 10th. At the start of the investigation into Edwards' disappearance, it was discovered that she had never showed up to her clinical class at Hartford Hospital and that her phone was off and her vehicle was left at home.
Following the realization that Edwards had gone missing, her family began to desperately plead online for her safe return or for any information regarding her whereabouts, including Edwards' husband, 22-year-old Tahj Hutchinson. On May 12th, two days after her reported disappearance, Hutchinson wrote in a post, "Whenever I was down you always lifted me up, I've never even been so many days without you. My heart is broken right now, shattered and my emotions all mixed up. Please please please, wherever you are, come back safely."
Despite this seemingly emotional appeal, it becomes even more distressing to read when you discover that Hutchinson did in fact know where his wife was, because he was the one who disposed of her remains just two days prior. 
After days of continued search parties organized by Edwards' family and friends and concerned locals, police were able to discover her body in a wooded area off Chipper Drive near the Hockanum River Linear Park Trail in East Hartford Friday, May 21 thanks to location data from Hutchinson's phone.
The location data on Hutchinson's phone was reviewed by officials, which showed that he had traveled to a heavily wooded area near the Hockanum River Linear Park on May 10th before driving to the East Hartford police department to report his wife missing, according to an affidavit that was later released. The data also showed that Hutchinson had traveled back to that area a few hours later, around 2:30 a.m. to 3 a.m. on May 11, to locate her body again but left after being unsuccessful, according to the same affidavit. 
With the discovery of Edwards' remains and the location data retrieved from his cellphone, Hutchinson confessed to killing his wife, though after changing his story several times, leading to his arrest later Friday night, around 9 p.m. He was charged with first-degree manslaughter and is currently being held on a $1,000,000 bond, though he may face additional charges, including murder. 
Edwards' family had asked a judge to deny Hutchinson bail completely, saying in a statement to the court, "TJ should be denied bail the same way Jessica's baby boy is now denied the chance to grow up with his beautiful mother." 
During his confession, Hutchinson admitted that Edwards and him had fought and argued all Mother's Day weekend. He told police that on the day of Edwards' disappearance, she hit and threw things at him, causing Hutchinson to push her which caused Edwards to fall and hit her head, causing her to bleed. They fought again later that night and continued on the early morning of May 10th, when Hutchinson claimed Edwards grabbed a kitchen knife. They wrestled and Hutchinson pinned her to the floor, kneeling on her back and neck with all of his body weight, until she eventually stopped moving. It was at this point that he realized she was no longer alive. 
The medical examiner has ruled Edwards' death as a homicide, claiming the official cause of her death was asphyxia due to compression of the neck and chest.
Edwards' friends and family held a vigil/memorial for her Saturday, May 22nd at 7 p.m. at Nevers Road Park in South Windsor. Amazing, funny, and confident were some of the words used to describe Edwards at the vigil. At the park, dozens gathered to pray, sing, and share stories, with her family sharing that she was the life of the party and she was a beautiful person inside and out. "She has a good heart… so kind… she saw the good in people," Edwards' sister, Mario Edwards, said. 
Edwards' family has called for Hartford State's Attorney Sharmese Walcott to take the case herself. "Sharmese taking this case will say that Connecticut has zero tolerance for domestic violence," Keren Prescott of PowerUp Manchester and a spokesperson for the family of Jessica Edwards said. "And when family or when a victim comes forward and finally is able to leave the abuser and is able to press charges, they will see this case and understand that Connecticut stands with them, that Connecticut stands with women, and stands with protecting women, and most importantly, it will show that Connecticut stands with protecting Black women."
Edwards' seven-month-old baby that she left behind is currently safe with relatives.