New York Knicks win first playoff game in eight years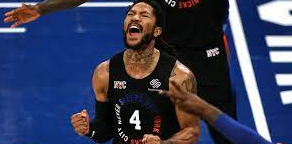 Last Wednesday, the New York Knicks secured their first playoff win in eight years at Madison Square Garden in New York. The world's most famous arena held 70% capacity for the game totalling over 15,000 fans for game two of the NBA playoffs. The garden was filled with blue and orange as they helped guide the Knicks to the win against their opponents, the Atlanta Hawks. 
The fans of the Knicks were on their feet for virtually the entire game except when the Hawks went on a little run. After the Hawks built a late first half lead the teams went to the locker rooms with the Hawks up 13. However, in the 2nd half it was the Knicks who outscored the opponent 32 to 18 which caused the garden crowd to erupt in chants and cheers. Fox Sports spoke to Colin Cowherd of the Herd and he spoke about the importance of the fans, "The crowd was insane. It jumped through the television set. … I just find it to be a great story. … Boy, Madison Square Garden is just the greatest example of the impact and the importance and the flavor that fans can give you. Fantastic." There is no doubt that the fans helped the Knicks comeback in this game because they were the team with more energy and drive to get to the rim. 
The Knicks have arguably been one of the biggest stories this season. They were a team expected to get no more than 20 wins and a team that would struggle. But all year, Head Coach Tom Thibodeau, a coach that knows how to win has had this team competing in every game. The Knicks ended up getting 41 wins and clinching the fourth seed. 
Thibodeau had liked the way the bench players were playing in the first half that he let them start the third quarter led by Derrick Rose. Rose just spoke about his overall game since coming to the Knicks and just simply said how much he cares about having a healthy body, "I take care of myself pretty good. I don't want to say too much about that because I don't want to jinx myself. But I'm good."(ESPN writer, Andrew Lopez). 
However one week later the Knicks were defeated in the series 4 to 1. But that doesn't mean that the Knicks accomplished a lot this year from the uprise of Julius Randle and the young talent in Rj Barett the Knicks are set up for success down the line and want to be right back in the mix next year.