2nd Year NBA Star Injured Before Christmas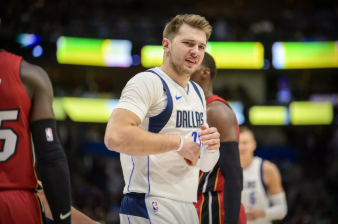 This past Saturday, Dallas Mavericks SG Luka Dončić went down with an ankle injury in a heated battle against the Miami Heat. He was seen by trainers back in the locker room and was then sent to get x-rays. Luckily for Doncic and the Mavericks, the results of the x-rays came back negative and he was left with a very harsh sprain in his right ankle. 
Dončić was told he had two choices: either to go on the road for the game to support his team or stay back to get treatment in Dallas. He chose to stay back in Dallas and Coach Rick Carlisle said that Dončić is responding very well to the treatment he is getting and is in line to be playing right after Christmas. Luka is only to be out for a couple of weeks and will hopefully come back in full force like he was before. 
Before the injury during this past Saturday's game, the reigning Rookie of the Year was averaging 30.4 points, 9.9 rebounds, and 9.4 assists which in the realm of basketball is quite well at just 20 years of age. If he were to keep these stats going into the new year, he will be well on track to get the MVP award and more. He is very consistent in making his shots and isn't necessarily a ball hog as he plays very well with his teammates. However, his teammates are working hard with Dončić not being able to be on the court as they were able to stop the seemingly unstoppable Milwaukee Bucks, who had been on an 18 game win streak. The Mavs at an 18-9 record are 4th in the Western Conference as the Bucks lead the Eastern Conference. We look to see Luka Doncic return in the near future and keep his team in the race for the playoffs in April.