Featured Athlete: Olivia Petgrave
Prowl: What inspired you to become a track athlete? 
 Petgrave: "My 8th grade year, I no longer wanted to play softball, so I switched over to running track, and I loved it."
Prowl: What has been your biggest achievement in your track career so far? 
Petgrave: "Becoming a college recruit and pursuing my track career at a Division 1 school next year."
Prowl: What advice would you give to underclassmen athletes? 
Petgrave: "If it's something you really enjoy, work hard and make little goals along the way so you can constantly improve and make yourself better."
Prowl: How do you balance your school life and your athletic career? 
Petgrave: "It's definitely extremely difficult especially since I work outside of school and am trying to get ready for college, but I try to take advantage of little breaks in the day to catch up on work and do homework. I also try to give myself breaks from school to just relax and hang out with friends, so I don't get too overwhelmed."
Prowl: What motivates you to keep pushing yourself on the track? 
Petgrave: "I want to be able to be the best I possibly can and be able to get as much scholarship money as possible from the college I will be attending."
Prowl: How do you deal with injuries or setbacks? 
Petgrave: "I try to push through them the best I can, even though I shouldn't, and when I do come back, if I have to take time off, I just come back and train harder than I have, so I don't get set back and still run to my highest potential."
Prowl: What is your training routine to prepare for the track season? 
Petgrave: "Basketball season definitely helps with pre-track training since I was running up and down a court for a season; it's like built in conditioning for track. During the couple of free weeks I had in between I tried to stretch a little extra to prevent injury and run in my free time."
Prowl: What is your goal for the future in your track and field career?
Petgrave: "My goal for high school is to run the 800 under 2:30, and my goal in college is to try to gain as much scholarship money as I can."
Prowl: What is the hardest part of being a track athlete? 
Petgrave: "The hardest part about being a track athlete is listening to my body because oftentimes I like to ignore my problems, and it usually makes them worse in the end, but I always keep pushing myself anyway."
Prowl: What are you most excited about this season compared to the rest?  
Petgrave: "I'm excited to go into the season knowing what I'm capable of and to get better and better everyday to reach my goals."
Leave a Comment
About the Writer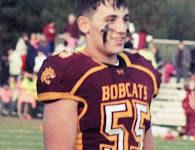 Nathan Tenney, Special Liaison to Athletics
Nathan Tenney is a sophomore at South Windsor High School.  Tenney is eager to join The Bobcat Prowl. He enjoys a variety of sports and is looking forward to sharing his sports knowledge with The Prowl's...