Featured Athlete: Brayden Edwards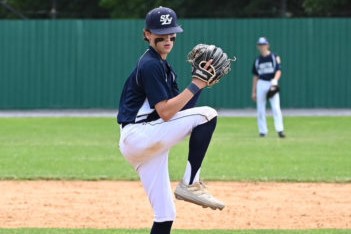 With high school baseball starting up, the South Windsor Bobcats have a new stud in town. Freshman Brayden Edwards, who is ranked 13th by PBR New England's top baseball players of the class of 2026, landing Edwards as the 2nd ranked 2026 LHP in New England. Seemingly making Brayden Edwards South Windsor's new baseball prodigy. 
Edwards has a lot to offer on the field. On the mound Edwards has 3 different pitches, a change-up, slider, curveball, and a fast ball around 77 mph. 
At the plate, Edwards has a bat speed averaging around 68.3 mph, and an exit velocity off the bat around 83 mph. 
Most notable, for top outfield velocity, Edwards ranked 5th on PBR New England's list, with his outfield velocity topping at 82 mph. 
When Edwards was asked what sparked his passion for baseball, Edwards spoke about how his dad played a big role in his passion for baseball, saying: "My dad coached baseball and I watched all the Red Sox's games when I was younger with him and after they won the 2013 world series I fell in love with the game." 
Asking Edwards to recall his most memorable baseball memory, he responded with: "Winning districts and sections and placing 3rd in the state 12U all stars and 13U legion winning the state championship over a 24-0 team."
When it comes to baseball it can mean many different things, for many different people. Brayden Edwards explained what baseball means to him: "Baseball means everything to me. I love the game and love playing with my hometown friends." 
"Baseball is like life, there's a lot of ups and downs and it's made me into a better person from all my coaches and friends."-Brayden Edwards on the impact baseball has had on him. 
In a casual conversation with Edwards, he expressed his feeling towards Major League LHP Clayton Kershaw, sharing that Kershaw is his favorite MLB player of all time, and stated: "He is one of the best LHP of all time and I base my game off his." 
With 4 seasons of high school baseball ahead of him, Edwards will continue to strengthen his skills, and continue to grow as a person on and off the field. It is safe to say that Brayden Edwards has a bright future within the game of baseball ahead of him. 
View Comments (1)
About the Writer
Ava Nicole Shasha, Sports Editor
Ava Nicole Shasha is a senior at SWHS. Shasha is a ball of energy. She thrives when it comes to the topic of sports. She is determined to become the face of women in the sports industry.  She is excited...