A Celebration of Music and Talent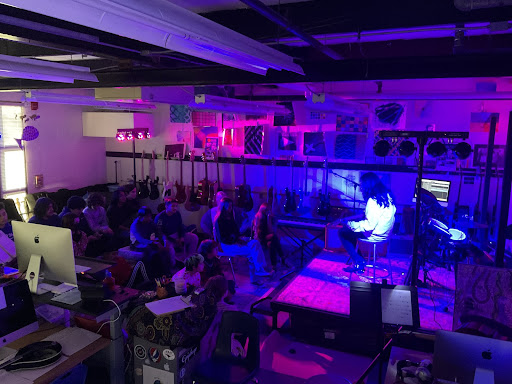 A new salute to the musically talented students of South Windsor High School. This musical celebration is a place where students can come together and put on a performance for each other. Under direction of Mr. Jeremiah Crowley, the guitar and electronic music teacher at South Windsor High School. This performance-based hangout is located in room 5, most Thursdays after school.
Made by students, for students, and with students are the words this performance lives by. "It's all about the students and the ideas of students," explained Crowley. Performances range from country ballads to rock anthems, and solo vocals to rock bands, with everything in between. Crowley stressed that this was a space meant for everyone, no matter the experience with music. Whether that means reading poetry or creating electronic music or simply sitting in the audience to enjoy the show are all essential in the success of this project.
A point of contention for Mr. Crowley is the idea of the audience-performer exchange, "Students need to have (audience participation) for them to truly learn an instrument. There are two real parts of learning an instrument, playing that instrument and performing it. With one will always come the other." The main goal for the program itself is to give the student body an opportunity to test out live performances and serve as a stepping stone for students to achieve, "spotlight solos, regionals, allstate and beyond."
The goal for the program is to combat the effects of the pandemic. Although out of most people's minds at this point, the impact of it can still easily be felt today, and especially among the performing arts. Many of our programs are still trying to recover, and performing on stage with a live audience has become an art lost to many. This provides that chance for all sorts of students to participate, learn, and grow.
After attending, and even performing, myself, I can attest to the program. With its relaxed and open nature, all types of students can feel open to go play under the colored lights. Everything from Adele to Greenday was represented. Mr Crowley explained, "We are looking for leadership right now. The hope is to one day grow this program into something grand, and that starts with beginning small."
Leave a Comment