An Invisible Crisis: The Baby Formula Shortage Weighing Parents Down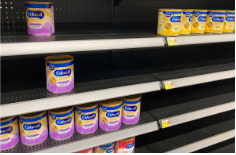 Crossing borders is nothing new for everyday commuters; however, crossing state lines in search of baby formula is a new phenomenon sweeping many parents in the South and Southwest. 
"I'm very stressed…I have family members in Maryland and Virginia looking to find it for me. I've been begging friends who work in retail to call me as soon as they get a shipment. I don't know what to do at this point," Chevella Lawrence, a mom in Washington, D.C, told TODAY Parents earlier this year.
The out-of-stock rate for baby formula hovered between 2% and 8% in the first half of 2021, but began rising sharply last July. Between November 2021 and early April 2022, the out-of-stock rate jumped to 31%, data from Datasembly showed. The rate increased another 9 percentage points in just three weeks in April, and now stands at 40%. In six states — Iowa, South Dakota, North Dakota, Missouri, Texas and Tennessee — more than half of baby formula was completely sold out during the week starting April 24. Alongside these statistics, the average cost of the most popular baby formula products is up as much as 18% over the last 12 months.
This shortage follows the voluntary closure of an Abbott factory in February– which produces much of the Similac formula, as well as several other brands, for the US market– amid consumer complaints about contaminated formula that was linked to two infant deaths. As of mid-May, it has still not been reopened.  
"We continue to make progress on corrective actions and will be implementing additional actions as we work toward addressing items related to the recent recall. In the meantime, we are working to increase the supply of infant formula by prioritizing infant formula production at our facilities that provide products to the US market," Abbott said in a statement to CNN Business. 
Experts say this is the worst formula shortage in decades and also highlights how the US health system's failures consistently fall hardest on people with complex medical conditions and people who are socioeconomically disadvantaged.
According to the CDC, nearly one in five babies receive formula within their first two days of life. Babies need formula to continue growing and get the nutrients they need. CDC survey data reports that people living in poverty are most likely to report that they've supplemented with formula in the first three months of their baby's life. Black, Hispanic, Asian, and American Indian parents are all more likely to say that they used formula within three months than white parents. Politico also reports that about 2,000 Americans have a metabolic disorder so severe that amino acid formula is their only means of survival.
About 60% of mothers stop breastfeeding sooner than they had planned, according to the CDC, given that returning to work and finding the time and equipment needed to pump breast milk are challenges posed to breastfeeding mothers.
America's weak support for new parents and babies is making the formula shortage even harder for parents. State and federal laws have been enacted to encourage breastfeeding by requiring break time and accommodations for mothers of infants, however even if a parent at a low-wage job wanted to pump breast milk at work or take time off to be able to breastfeed a baby at home, they are also the workers who are least likely to have paid family leave or have adequate space and time at their workplace to pump. Rates of breastfeeding have consistently been lower among Black babies than other groups, with about three quarters of Black babies being breastfed only in infancy, below the national average of 84%, according to the CDC.
So, ultimately, people of color and people living in poverty, along with the people who must take special formulas for medical reasons, are those who will be most exposed to the health and economic consequences of a prolonged formula shortage. 
Ann Kellams, a University of Virginia faculty pediatrician and board president of the Academy of Breastfeeding Medicine states, "Certainly, the families who have fewer resources, have fewer options, who aren't able to pay premium prices are going to be more at risk."
Nationwide, many desperate mothers are rationing food for their babies as they search for more formula. Some are driving several hours, only to find more empty shelves. 
For 36 year old mother Sandra James, there is only one grocery store in her town. In the past few months, she has not been able to find specialty baby formula for her 8-month-old son, Kenson, who breaks out in hives and loses his hair when he drinks dairy-based formulas. At first, she checked five Walmarts nearby, driving around for hours after she got off work until she found the special formula she needed. She has sometimes gone to five or six stores a day as far away as Alabama before she can find a can. 
Many parents are even pleading for help on social media, imploring strangers to share or even barter any extra supply they may have. In Pell City, Ala., Carrie Fleming has been putting half a scoop less of formula into every bottle she makes for her 3-month-old daughter, Lennix.
Ms. Fleming had originally tried to breastfeed Lennix but could not produce enough milk– the only formula Lennix can stomach is a hypoallergenic kind called PurAmino, which Ms. Fleming cannot find anywhere nearby. She has called stores and pharmacies as far away as Florida and Ohio and posted on Facebook in April, begging for help. Finally, she found four small cans at a formula depot in New York for $245.
In an effort to best provide for all customers despite the shortage, CVS and Walgreens confirmed that it is limiting customers nationwide to three toddler and infant formulas per transaction, alongside Target limiting baby formula purchases to four units per customer for online purchases.
Residing in Oceanside California, Darice Browning is a mother to 10 month old Octavia and 21 month old Tokyo. Both of her daughters have food allergies that cause both of them to vomit blood if they ingest dairy proteins. Eager to find formula for her children, Ms. Browning said she called all of her daughters' doctors looking for formula, only to be told that none had any. Desperate and scared, Ms. Browning even considered going to the emergency room just to feed her younger daughter.
"I was freaking out, crying on the floor and my husband, Lane, came home from work and he's like, 'What's wrong?' and I'm like, 'Dude, I can't feed our kids, I don't know what to do.'" 
Chloe Banks and her husband have been struggling to buy formula for their 11-month-old son, Teddy, who has a milk and soy protein allergy and needs a special kind of formula, for the past three months. 
"It's incredibly stressful," she told NPR. "It's endless, where you don't know where your next can of formula is going to come from."
"You have, of course, in the back of your mind there are other families who are doing the same thing. Are you taking this from a child who needs it as well? Try not to be too greedy, but then if you're not greedy, you don't have enough for your child," she said. "It's just a really vicious cycle.
F.D.A. commissioner, Dr. Robert M. Califf, said in a statement on Tuesday, "We recognize that many consumers have been unable to access infant formula and critical medical foods they are accustomed to using and are frustrated by their inability to do so. We are doing everything in our power to ensure there is adequate product available where and when they need it."
Currently, there is no law that requires formula manufacturers to inform the federal government about any looming supply interruptions. However, requiring a warning would give public officials a chance to start making contingency plans.
A stronger social safety net would have left the US better positioned to navigate this shortage, Ann Kellams argued. She pointed out that, given the lack of paid leave in the US, the country is always forcing new parents to make difficult decisions about how to balance the need to take care of their children with the need to support them financially.
Pediatricians are encouraging struggling parents to ask their pediatricians for help, as many doctors also often have relationships with formula companies and can request special shipments for their patients. They are also advising parents to be flexible on brands while reassuring them that it is safe to do so and are warning parents to not make their own formulas or to water them down as doing so will not allow their babies to get the nutrients they need.
So, this crisis leaves us with the big question of why? Why are we not approaching this shortage as any other food insecurity? Why is more not being said to share the issue? Why must parents rely on one another rather than their own government?
Like mother Chloe Banks said, "Everything that we want to do is to take the best care of our children."