Sophomore Class Fundraiser to Raise Money for Class Selling Pura Vida Bracelets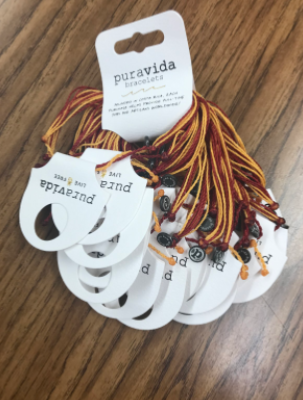 The sophomore class is holding a fundraiser the week of December 9th which entails selling pura vida bracelets containing South Windsor High School's colors; maroon and gold. To promote school spirit, along with raising money for the sophomore class, the class of 2022 is excited to kick off the fundraiser. The money raised will go toward helping the sophomore class pay for events like prom and senior outing, it will also support a good cause. The sophomore class officers felt that this was a great way for people to not only support the cause, but was reasonable fundraiser for people to participate in. 
To start off, the name pura vida means "pure life" in spanish. This saying is prevalent in Costa Rica as it encourages the appreciation of the little things. The pura vida company was founded when two students from San Diego State University, Griffin Thall and Paul Goodman, went to Costa Rica in the summer of 2010. While they were there, Thall and Goodman discovered that some artisan workers in the country were struggling from poverty. The two immediately bought four-hundred bracelets from two artisans and brought them back to the United States, where they sold them in San Diego. The bracelets were a hit and the bracelets were in demand. Since then the company has improved and grown. Today, about nine years after the company was founded, pura vida sells millions of bracelets each year. They employ more  than eight-hundred artisans to work on their bracelets in more than three countries, which does a great job in giving jobs to more people. 
With this being said, the sophomore class is excited to add this fundraiser to list of fundraisers that they have done in the past two years. Last year a problem with fundraisers were, the location of the fundraisers. Since most of the fundraisers were held off campus last year, the sophomore class wanted to ensure everyone could participate in this year's fundraisers.  "It was often difficult for students to attend because of other commitments," says Kayden Burke, the sophomore class treasurer. The sophomore class officers wanted to make sure that everyone would be able to participate in this event. Burke continues, saying that she is "hoping that the students of South Windsor High School will look forward to wearing one of these meaningful bracelets to not only support our [sophomore] class but build relationships through our school community." The bracelets are on sale for six dollars, and will be sold during lunch waves this week in the back of the cafeteria.