A Review of 'The Little Mermaid Live!'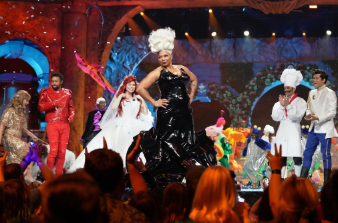 On Tuesday night, ABC aired "The Little Mermaid Live!" starring celebrities such as Auli'i Cravalho as Ariel, Queen Latifah as Ursula, and John Stamos as Chef Louis. The performance consisted of the original movie being played on a larger screen in front of an audience and was stopped at specific songs/parts in the movie where the "live" cast would come onto the stage and perform their role. Songs such as "Part of Your World," "Poor Unfortunate Souls," and "Under the Sea" were performed by the cast and was adored by the audience, but the audience at home had some differing opinions and questions from the live audience.
The prerecorded show began when Jodi Benson, the original voice of Ariel, introduced the show and some of the beginning characters that lead the show. The screening took chunks of the movie and interchanged for the live performance during the larger musical numbers. Since the actors all had some of a musical background, the singing was ruled as not being an issue. Some of the fan favorites of the night were Queen Latifah's portrayal of Ursula and John Stamos' version of Chef Louis had people wondering if he was born to play the role. However, some of the characters/stage aspects had some major complaints.
For starters, the cast was missing some of the major roles for the live version, such as King Triton, Flounder, and Scuttle. Along with this, Flounder was replaced by a puppet in "Under the Sea," that Twitter had a few things jokes to make about it with one user saying "when you order online vs. when it comes in the mail."  Many of the other ensemble cast was replaced by puppets as well that had many people confused. Another factor that had people reeling was Sebastian, played by Shaggy, whose costume was more of a Brittany Spears meets Thriller-esque compared to a crab costume. However, the audience's number one complaint was that Queen Latifah was not in the performance enough. Again twitter users began to tweet out about their opinions with user @SpiritBentley saying "Okay nothing more to see here. Queen Latifah killed it. Everyone else can go home. #TheLittleMermaidLive." 
SWHS students seemingly agreed with the Twitterverse's opinion on how the performance went. Senior, Sarah Cloutier, who was in a production of The Little Mermaid a few years ago stated "they shouldn't have advertised it as live since it wasn't live. It could've been better." As The Little Mermaid fans get ready for the live-action movie, hopes are high that it will be better than the live version.