On South Windsor High School's Caitlin Sze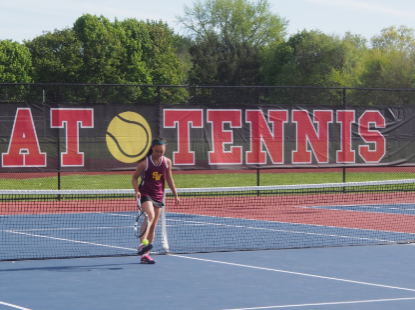 Here at South Windsor High School, we have many notable student athletes. This week, junior, Caitlin Sze, was nominated for the Hartford Courant's Varsity Athlete of the Week! Not only does the talented tennis player do an amazing job out on the courts, but she also works incredibly hard with other school and non-school related things. Among all that she has accomplished, Sze shares with us at the Bobcat Prowl a few more things about herself:
Upon being informed of her nomination, Caitlin states that it was a bit of a surprise. "I had no idea I got nominated as athlete of the week but was super excited when I heard." However, to other students it comes as no surprise considering how outstanding we see her perform during matches. In fact, Sze has been playing tennis for some time now. She notes that she began playing around 6 or 7 years of age. She recalls falling in love with the sport instantaneously. The hard working student even has the desire to continue in her sport throughout her college years.  "I definitely want to play tennis in college and continue tennis for the rest of my life." In previous years, the accomplished student has even made it to all-states her freshman and sophomore years. The fact that she was one of the top 16 girls in the state for two years is truly impressive.
Fellow teammate of hers, senior, Leah Polansky, believes that "Caitlin got nominated for athlete of the week because she's so great at tennis. She is currently undefeated."
In school, Sze has also achieved some pretty big things. Just recently, Sze was inducted as a member of the high schools language honor society and she had made an important contribution to the We The People event, winning an award for her work as a representative at our school. It will be of no surprise if Sze continues to do amazing things throughout the rest of her high school career and afterwards.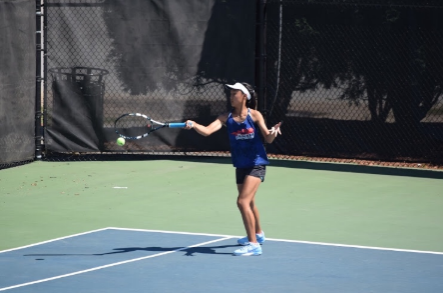 Caitlin has been recognized for her dedication to tennis, but there are other things that Sze loves to do when she is not swinging her racquet back and forth. In her free time, she excels at playing the piano and loves going outdoors when the weather is nice.
Make sure you vote for Caitlin this week on the Hartford Courant Varsity Student Athlete page!
http://highschool.southwindsorschools.org/news/what_s_new/vote_for_a_bobcat_in_the_hartford_courant_s_varsit