Bombara Strong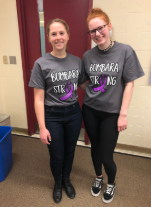 Olivia LaRosa
April 4, 2019
On March 28th, the student body and faculty showed their support for Dr. Bombara as he goes through this difficult time by wearing 'Bombara Strong' t-shirts and the color purple, to represent pancreatic cancer. The t-shirts were on sale in the counseling the past week for fifteen dollars as well as bracelets. Many students and teachers participated in this event because all proceeds raised will be donated to pancreatic cancer research as Dr. Bombara himself currently is battling that type of cancer.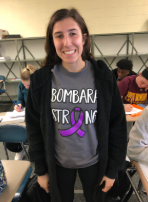 Dr. Bombara is loved by so many of his students. They all speak so highly of him. Senior, Lauren Landino, participated by purchasing a T-shirt. She said, "I want to help show support to give back to what he's done for everyone" and she did just that. She knows him through his time running the SADD club at the high school. Through this club it was just one of the ways he impacted so many at the high school. Another senior, Connor Jordan had him as a guidance counselor and says "Bombara was more than a school guidance counselor, he was actually a guide to life in general and I appreciated that fact every time I talked to him." Students don't just feel this way about Dr. Bombara during their high school years. Brendan Elliott is a freshman at college and he always reflects on his time with Dr. Bombara during his high school years and how he will never forget how helpful and kind he was to him. He describes Dr. Bombara as a "life mentor" and credits Bombara for helping him "be the person he is today."
Dr. Bombara is a wonderful person and through everyone's support this past week he was truly shown how much people care about him.