Farewell Yellow Brick Road: Elton John's Final Tour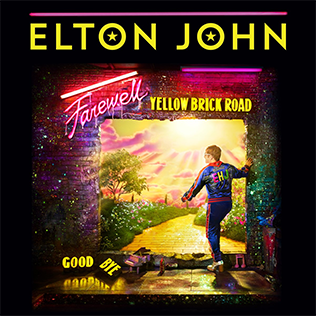 Almost anywhere you go in the world, ask someone if they know the name Elton John; the answer will most likely be yes. Elton John is arguably one of the greatest artists of all time. From his flashy outfits, to his piano skills, Elton John has become a world-wide icon. After years of creating a legacy, Elton John has come to the decision to wrap up his recording and touring days, launching the Goodbye Yellow Brick Road, Farewell Tour. 
Elton John announced his 5  year farewell tour in 2018, with his final performance set for July 2023. John explains how he is looking forward to his retirement era in an interview with CBS,:
 " I want to be with my family. I mean, I've been touring since I was 17 in the back of a van. I've had the most incredible life. I've been so lucky, and I've loved every single minute of it. But I've had enough of that applause, and I really want… I'll be 76 years of age when I stop touring in 2023. I want to do something different with the rest of my life." 
John has had a handful of career achievements, according to Marshall Arts: with 1 diamond, 40 platinum or multi-platinum, and 23 gold albums, over 50 Top 40 hits, and he has sold more than 300 million records worldwide. Making Elton John one of the top selling artists of all time. For Elton, his career has been a dream come true.
Aside from being one of the greatest artists to ever live, it wasn't always a Yellow Brick Road journey for John. One of the biggest factors of John's life is his relationship with his father, who had a Cold heart. 
Peoples highlights John's tough relationship with his father: "Rare moments of physical contact between father and son usually took the form of beatings and made the shy boy even more reserved." Also stated by John in the article about his fathers and his relationship: "I never had his approval," John said of his father in a 2008 interview with People. "My mother had letters from him saying, 'He'll never become a star.' … He instilled in me the drive to become who I am."
Elton John's career has been recognized in many different ways, one way being a movie about the artist. 
Rocketman was released in 2019. Rocketman is a biographical musical film inspired by Elton John's career and life. The name of the film, "Rocketman", came from one of John's most popular songs: Rocketman (1972). 
When it comes to John and his concerts, videos and photos express the energy, but there ain't nothing like the real thing. John's tour will conclude with 329 performances in total. After years of breaking down barriers , Elton's performances in North America are wrapping up very soon. His finale performance in the states is set for November 20th at Dodger Stadium. It will also be available to stream on Disney+. 
From somebody who started touring in the back of a van, to now traveling all over the world, Elton John has left his mark in the music industry, and a mark on millions of people worldwide. The big picture when it comes to John is the impact, and true rarity, one person could have.