Chick Fil A Opens in Manchester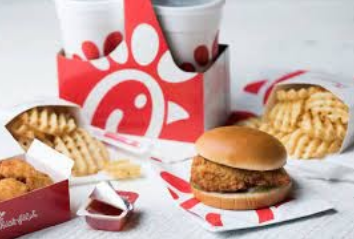 On December 1st, Chick-fil-A opened in Manchester, Connecticut. Chick fil a is a fast food restaurant that offers quality food to all their customers. Chick fil a has been around since 1946. 
Student Tyler Power, a senior states ¨I'm excited because it's one of the best fast food places and having one so close is gonna be great¨  
With that being said there are only 11 in Connecticut.  With one being close to student Nick Worthington another senior that says  ¨it's great no more drives to glastonbury or enfield¨                    
Chick Fil A is closed on Sundays and Chick fil a  states ¨Our founder, Truett Cathy, made the decision to close on Sundays in 1946 when he opened his first restaurant in Hapeville, Georgia. Having worked seven days a week in restaurants open 24 hours, Truett saw the importance of closing on Sundays so that he and his employees could set aside one day to rest and worship if they choose a practice we uphold today.¨
In addition to it being one of the top fast food chains it offers scholarships to students. ¨Since 1973, Chick-fil-A has helped over 66,000 Team Members achieve their remarkable futures through a total investment of $110 million in scholarships¨ 
 It is recommended to go inside and order  at Chick Fil A   to speed up the orders.  Student David Morison states ¨if you want to go to chick fil a I recommend you go inside so you don't have to wait in the long drive through line¨ Chick Fil A had their special sauce that everyone craves.  Chick Fil A has many popular choices on their menu including their Chick fil A  chicken nuggets and chicken sandwich. 
Truett Cathy the founder of Chick Fil A stated "We change the world, and ourselves, by our response to unexpected opportunities"   which Chick FIl A still goes by today.