Chiefs Take Down the Eagles for Super Bowl LVII
Super Bowl LVII, between the Kansas City Chiefs and the Philadelphia Eagles, took place Sunday, February 12, at State Farm Stadium in Glendale, Arizona. The Chiefs ended with a 14-3 regular season record, and the Eagles with a 14-3 regular season record. 
The Chief's quarterback, Patrick Mahomes, has been a 5-year starter in the NFL. This Super Bowl XLVII was Mahomes' third Super Bowl appearance. This was Eagles quarterback, Jalen Hurts', 3rd year in the league and 2nd year as a starter. However, this was Hurts' first-ever Super Bowl appearance since entering the national football league. 
This year's Super Bowl was on the backs of the two superstar quarterbacks. NFL MVP Mahomes had a significant impact on the comeback victory for the Chiefs. Throughout the game, Mahomes completed 21 out of his 27 pass attempts and threw for 182 yards. On the other sideline, Hurts tied a Super Bowl record with three rushing touchdowns and finished 27 out of 38 pass attempts for 304 yards. 
With just under two minutes left in the game, the Chiefs faced a crucial third and 8 from the Eagle's 5-yard line with the score tied 35-35. Wide receiver JuJu Smith Schuster received a throw from quarterback Mahomes that led to a controversial holding call which granted the Chiefs a first down, the new set of downs gave the Chiefs the ability to run down to the clock to eleven seconds before kicking the game-winner. 
Many students from South Windsor High School had strong opinions on the officiating that changed the winner of the game. "I felt that the officiating crew had a big impact on the game, the final holding call that was called on James Bradberry that cost the Eagles the game was a debatable call and I feel that the refs should have not have made the call during that part of the Super Bowl," said junior Reagan Heafey Deangelis.
 "I felt that it was one of the best super bowls that I have ever watched. I believe that the refs had some wrong calls on both sides but overall the last call of the game ruined the outcome," explained sophomore Robert Wunsch.
After a great performance by both teams, the Chiefs earned their 3rd Super Bowl win and Patrick Mahomes earned his second Super Bowl ring since entering the league in 2017 after a 38 – 35 win on February 12 against the Philadelphia Eagles. 
Leave a Comment
About the Writer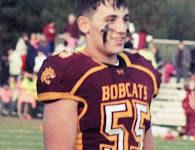 Nathan Tenney, Staff Writer
Nathan Tenney is a sophomore at South Windsor High School.  Tenney is eager to join The Bobcat Prowl. He enjoys a variety of sports and is looking forward to sharing his sports knowledge with The Prowl's...