South Windsor Boys Basketball Season Opener Retrospective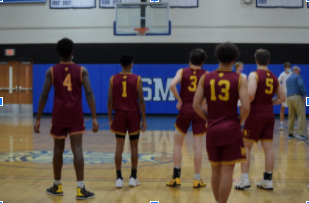 "Shot!' "Get back on D!"
Adrenaline high, buzzers going off.
"Scoreboard!"
10 seconds, what would you do?
As South Windosr traveled to Lewis Mills Highschool, Thursday December 16th, for the season opening game, there was tension on the rise. 
Aggressiveness, high shot-make ratio, communication, and good ball movement made a mark on this game. 
However, the refs weren't in Souths favor last night. 
The aggressiveness the crowd loves to see, was made to be easy draws calling fouls on our side.
Starting Point Guard, Hakim Montgomery speaks on this.
 "They gained their win on foul shots and ultimately, that's how they took the lead. We gave too many easy draws and that led to the closure of the game."
Montgomery states,
 "It was an equal match up but towards the end they outplayed us."
However, South Windsor did not give up the fight easily.
"I played well and was aggressive but after gaining too many fouls I had to stop playing as aggressive. I think that may have affected the outcome of the game."
Montgomery played hard but with fouls on him left and right, he was left without choice.
He sacrificed his aggressive playing style for the better of the team, but this may have affected the dynamic.
Teammate Anthony DeCiantis, starting shooting guard, shares a similar perspective with Montgomery.
"I think I played pretty good , I could've shot the ball better, but everyone played their role. We just didn't finish strong at the last minute."
Along with fouls, adjustment to quarterly changes seemed to fault South Windsor.
Starting Center, Tryon Casey, speaks on this.
"I think the team played pretty well last night, we had a decent lead early in the game but we just didn't close out. They adjusted well to our defense and we didn't adjust back"
With 10 seconds left in the game, the fourth quarter ended in a 54-52 score granting Lewis Mills a close victory.
Despite the disappointment, DeCiantis, Casey, and Montgomery kept spirits high and encouraged teammates post game, and will come back next game even better.
South Windsor played exceptionally for their first game and exhibited phenomenal sportsmanship, Bobcat Strong.
South Windsor is set to face Lewis Mills in the Home Hughs Grier Gymnasium for another game later this season.