Miami Heat on the rise with new LowryxButler duo?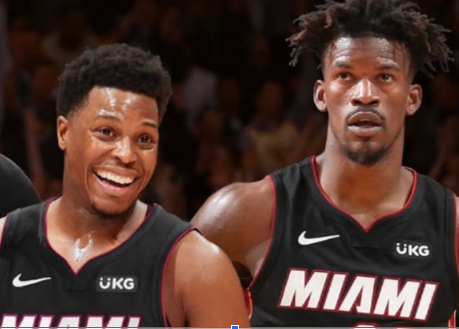 Kyle Lowry, six-time all star averaging 17.2 points, 7.3 assists, 5.4 rebounds, and a championship with the Toronto raptors under his belt, was recently acquired by the Heat in a sign and trade deal with Toronto for Goran Dragic. 
Miami got lucky early on by not only recruiting Lowry, but agreeing to a deal with 3-point specialist Duncan Robinson on a contract that would be worth nearly $90 million if all five years are completed.
Lowry brings experience and championship experience to the Heat, though leaving his title of "the greatest raptor ever" in Toronto.
Despite this, Lowry has already gained accolades from Miami's head coach Erik Spoelstra.
"His brain speed and IQ for the game is at such a high level that it really has a multiplying effect on everybody else on the roster."
Aside from his skill and finesse, Kyle Lowry has brought a new dynamic to the Heat and introduced the NBA to the next iconic duo on the court. 
It is no surprise that Jimmy Butler and Kyle Lowry hit it off on the court, as they did in their personal lives. 
These two have been friends for about 10 years, beginning when Butler was first appearing with the Chicago Bulls and Lowry had just joined the Toronto Raptors.
They began to get together when they were in Chicago or Toronto at the same time, hanging out, and having dinners. 
"There was mutual respect," Lowry said. "When you connect with someone like that, it's easy."
Lowry holds Butler in the highest regard and shares that Butler is the godfather to his daughter. 
If this duo is going to be as good on the court as they are off, the Heat's in for a season of greatness next year as it's been mentioned, they play exceptionally together too.
"We complement each other because his abilities are unlimited," Lowry said. "He works as hard as I work. He does the things that a professional should do and cares about the game to the utmost extent, and so do I."
As these men agree they work well together, Spoelstra affirms this in a quote referring to Lowry's contribution;
"It allows Jimmy to be an attacker, a scorer and not have to shoulder all the other responsibilities of playmaking for us," Spoelstra said.
With approval from Spoelstra, teammates, and the Raptors behind him, Kyle Lowry has a bright future with the Heat and may have another ring on his finger in the 2022-2023 season.