Hall of Famer QB Aaron Rodgers lies about vaccination then gets covid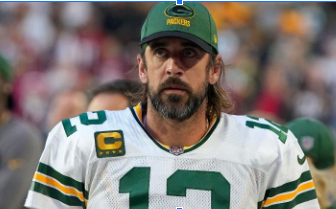 The three time NFL MVP, and role model, Aaron Rodgers tested positive for covid-19. The man playing for the Green Bay Packers since 2005, ended up letting his team down. To be in the NFL alone is a big responsibility. Playing football isn't the only job players have, they have to make sure what they are doing off the field is not going to ruin their, or who they are representing's reputation. 
Rogers claimed he was immunized back in august 2021. He claims that he is allergic to an ingredient in the Modern and Pfizer vaccines. Also stating he is reluctant to get the Johnson & Johnson shot after other reactions people had.
The NFL has strict restrictions on covid policies. Being an active player in the NFL during covid times, means that you can not risk the chance of getting covid. An article on the NFL covid protocols states that, "Individuals who are not fully vaccinated, including players, will be prohibited from gathering outside club facilities or team travel." 
A video of Rodgers at a Halloween party went viral, breaking the restrictions. NFL also writes, "NFL players who are not fully vaccinated will be barred from going to nightclubs, bars, house parties, concerts, etc. Failure to follow the protocols could result in fines of $50,000 for a first offense."
When the Packers received knowledge of Aaron Rodgers at the party, they did not report it. Which is also a violation. Leading to the packers also being fined. The Packers were fined $300,000, Rodgers was fined $14,650, along with another receiver Allen Lazard who was fined the same amount.
Rodgers ended up speaking out on his behalf on the "Pat Mcafee Show","I think we all know individuals who have lost their lives personally, people who have lost their businesses, their livelihoods, their way of life has been altered completely, and I empathize with those things." 
Recognizing where he stands he says," And I also know how sports can be a connector and bring people together in times of adversity, and I do realize that I am a role model to a lot of people."