Phil Mickelson raises the bar after winning the PGA at 50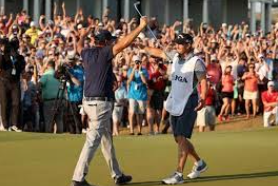 Last week at Kiawah island, 50 year old Phil Mickelson thrilled the audience after becoming the oldest golfer to win the PGA Tournament. The end of the PGA's that day pushed past the standards and stereotypes that tell golfers they are in their 'senior years' after a certain age and therefore really can't win.
 Although this stereotype can manytimes be proved correct when it comes to professional golf, ( happened to many greats like Tiger Woods Rory McLlroy and Jordan Spieth) Phil refused to let it take him down,  "He's been working hard on his fitness and his mental game and working on his breathing. He's one of the top guys in the last 30 years, Tiger being No. 1 and I think Phil being No. 2. He's not a normal 50, and when Tiger turns 50 he won't be a normal 50 either. They're both Hall of Famers with many, many victories."Tim Petrovic,an american golfer states.
Phil's last win before the PGAS had not been since 2019 pebble beach, and his last major win even longer. The player did admit to facing the effects of, "The difficulty [of being] on a plateau and you're not really making advancements and you're putting in the work and putting in the work and you're not seeing the results, to stay consistent and to stay committed," Mickelson states. Despite this, he has always stayed committed to the sport and to achieving his goals,and carries a positive mindset to every practice.
Phil's personality and drive is what makes him the player he is, and the base of what allows him to be able to make such incredible achievements in golf,even as an older player.
Mickelson has a sort of drive to accomplish and to become better,which is quite fascinating and inspiring when seen from others eyes. Not only does Phil work to motivate himself but he radiates this positive energy to his friends,family and fans such as on his Instagram account where in one post explains how he is, "Going for a record today. I need 6-7 birdies to warrant this many thumbs up. Let's do this!"In being motivated,Phil inched closer to achieving his goals,and eventually his groundbreaking win.
The achievement was a significant moment in both Phils life and the history of golf but was even more special since Phil's brother, Tim got to be the caddy for the game,standing by the golfer,and giving him tips in inspiration leading him to his championship win. The story behind Tims role as the caddy in his brothers game was not something he planned on or even considered due to and was a difficult decision for him, since he had previously set of to be the agent for Jon Rham, a talented young golfer, and had set in stone many plans in with his career and life before.
Phil's previous caddy who he had worked with for many years, split off in 2017 and Phil felt that his brother was the one who he would want most by his side. Although Tim considered the effect taking this role would have on his other goals, Phil was family and had so much potential and drive to do amazing things and make history. In the end, Tim chose his brother and couldn't have been happier and more proud for his decision to be by his brother's side after his monumental win,"the biggest thing is, it's family," "I thought it would be neat to be out here more, to spend more time with my brother. And, indirectly, I'm going to end up spending more time with everyone else in my family."
"This is obviously awesome," "Any win is special, but to win a major championship at this stage of his career, I definitely teared up for the first time since caddying for him four and a half years ago." Tim says.
The game had worried Phil at the start since he would be going up against so many extraordinary golfers.It was inspiring to watch the game playout,and heartwarming to see how Tim worked to motivate his brother to commit and focus hard before each hole,  "I had a wonderful warm up session, like I was ready to go and I made some uncommitted swings the first six holes. He pulled me aside and said: 'If you're going to win this thing, you're going to have to make committed golf swings." Phil exclaimed.
The PGA's showed us that family is everything,to alway commit and to steer yourself right back to the road when you are moving off track. Phil may be one of the oldest golfers to compete,but he is one of the hardest workers. The story of his boundary breaking win represents all his hard work paying off,and not just paying off but building up to something better.