Giannis Anteutukompo signs Super Max contract to stay with Milwaukee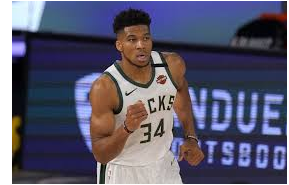 Milwaukee Bucks star Giannis Antutukompo has agreed to a super max contract for five years worth 228.2 million dollars. This deal comes a week before the NBA returns tonight on TNT. 
This deal to some might be a surprise as there was some speculation on whether or not Giannis would be leaving the Bucks or staying. This answers that question. But had Giannis not signed he would've been eligible to enter free agency after this upcoming season. Although he resigned his contract has a opt out in the fourth year.
"Some see a wall and go in [another direction],"…"I plow through it. We just have to get better as a team, individually and get right back at it next season." Anteuntukompo spoke soon after signing his extension addressing the team's struggles in the playoffs. He hopes to bring a championship to Miliwaukee in the next few years after being the league leader in wins the past two seasons but ultimately failing both times in the playoffs. 
Giannis thanked the organization for giving him the chance to be a professional basketball player, "You took a chance on us eight years ago and now putting my signature on a contract like this is unreal." The reigning MVP and defensive player of the year had put up new career highs with 29.5 points per game and 13.6 rebounds per game. He also led the team in assists per game with 5.6. 
Bucks fans and Antutokumpo can't celebrate for too long as their 2020-2021 season kicks off Wednesday on TNT against the Boston Celtics.