Faces in Sports Affected by COVID-19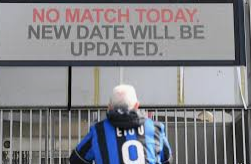 All over the headlines the past few weeks, we saw several sports leagues shut down or postpone their season. Whether it be the MLB pushing their season back, the NHL postponing their season, or the XFL completely shutting their season down, several commissioners have taken action. Luckily, it was brought to attention right away; as of the writing of this article on Friday, March 20th, 28 athletes, officials, or coaches around the world have confirmed cases of COVID-19.
The first confirmed case of COVID-19 to occur in the American sports world was Utah Jazz center Rudy Gobert and he got plenty of backlash from fans and media due to his actions the previous week. In a post-game interview after a game against the Toronto Raptors two days before being officially diagnosed, Gobert made a mockery of the disease and called it a joke when he touched every microphone in front of him as he left for the locker room. This did not age well. He and teammate Donovan Mitchell became the first cases of Corona in the NBA and forced Commissioner Adam Silver to suspend the season. This action by Silver, arguably, caused a ripple effect with other leagues. Later in the week, it was confirmed that Cristian Wood of the Detroit Pistons, Kevin Durant of the Brooklyn Nets, and Marcus Smart of the Boston Celtics had COVID-19 along with three unnamed Nets players, three unnamed Philadelphia 76ers players, and two unnamed Los Angeles Lakers players.
Outside of basketball, there have been other cases as well. Juventas defender Daniele Rugani was the first confirmed case in the world of sports. Soccer was also a sport that has been hit hard with COVID-19. ACF Fiorentina in Italy has three members of their team diagnosed with the virus. Flamengo's manager, Jorge Jesus, was also diagnosed with the virus. In England, Arsenal's manager Mikel Arteta and Chelsea winger Callum Hudson-Odoi were both diagnosed on the same day. Other names of confirmed cases in the world of sports include Real Madrid power forward Trey Thompkins, Cleveland State women's basketball coach Chris Kielsmeier, Golfer Victor Lange, and New Orleans Saints coach Sean Payton. There were also unnamed cases Seattle Dragons (XFL) and the GCL Yankees (MiLB).
One of the most notable cases in the world, not just in sports, might be Kozo Tashima. The reason he is so significant is that he is the Deputy Chief of the Japan Olympic Committee. As of the writing of this, the 2020 Summer Olympics are still on in Tokyo, Japan. However, with this case in particular along with the others around the sports world, it is hard to tell if and when the International Olympic Committee will pull the plug on the Olympics. For now, we must sit and wait in our homes and simply wait this out. Please stay safe if you are going out and keep yourself healthy.