Stefanos Tsitsipas Wins First ATP Title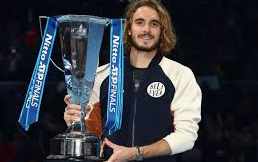 Just recently, 21-year-old Stefanos Tsitsipas went on to win his first ATP title, while also becoming the youngest player to win the title since Lleyton Hewitt in 2001. Tsitsipas beat Dominic Thiem in the finals with a score of 6-7(6), 6-2, 7-6(4) and this was by far the biggest title of his career.  
In his speech to the crowd, Tsitsipas tells them that, "holding this trophy feels amazing, just unbelievable… I've never received so much support in my life." Being the first player from Greece to win the ATP Finals, he also won $2,656,000 for his playing. He also tells the crowd, "I have no clue how I played so well in the second set. It was pretty frustrating for me to be playing with such nerves for the first time in such a big event. I was a break up (in the third set), I couldn't manage to hold it. Things were decided in the tiebreaker and I am so relieved by this outstanding performance and fight that I gave out on the court." 
The players that participated in the finals included Novak Djokovic, Roger Federer, Rafael Nadal, Stefanos Tsitsipas, Daniil Medvedev, Dominic Thiem, Alexander Zverev, and Matteo Berrettini. Looking at the players, a majority of the players are part of the next generation, showing the future of tennis. 
The win for Tsitsipas doesn't just show how good he is but also shows an opening for the next-gen players. The next-gen players include anyone that is under the age of 21 or 22, and the big three that we see in tennis are Federer, Nadal, and Djokovic, who are all placed in the top 3 of the world. ESPN tells us that, "after going out at the semifinal stage in London, Federer said it felt as if the young players were closer than ever to breaking through." Federer tells ESPN that, "I just think they [the Next Gen players] have proven their point this year by qualifying for the [ATP] Finals and now at least one of them making it to the finals," but not because the big three are getting worse, but because the younger players are getting better. 
Tsitsipas, clearly happy with his performance hopes to continue to work hard and get better every day and to do even better in the grand slams coming up, the first one of the 2020 year being the Australian Open.