The Top 5 MLB Free Agency Signings So Far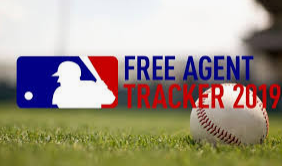 The MLB Hot Stove can be one of the most exciting times of the year, whether you be a casual or hardcore fan of the sport of baseball. With big names like Anthony Rendon, Gerrit Cole, and Stephen Strausberg yet to sign with a team, here is a breakdown of the top five MLB Free Agents that have signed so far. This ranking is in no way biased, it is based on the Free Agent's rank amongst the other Free Agents in the 2020 class according to ESPN.
SP Kyle Gibson signs with TEX for 3 years, $30 million
The goal in Free Agency this year for the Texas Rangers is simple: spend as much money as possible to fill as many holes as possible. They did just that by signing starting pitcher Kyle Gibson. While Gibson is not the ace the Rangers may be eyeing, he is a consistent middle-of-the-rotation guy for Texas. A veteran to the MLB, Gibson is 32 years old and made his first start in 2013. That kind of experience may be what the Rangers need for their locker room, making him a crucial signing for them. He is the 16th ranked free agent according to ESPN.
IF Mike Moustakas signs with CIN for 4 years, $64 million
Big news for the Cincinnati Reds organization. ESPN's 12th ranked free agent has bounced around a bit, being traded from the Kansas City Royals to the Milwaukee Brewers in 2018. However, he will set up shop in Cincy nicely on a four-year deal. He'll slide in well, likely at second base, to join forces with 1B Joey Votto, SS Freddy Galvis or José Peraza, and 3B Eugenio Suarez on the dirt of the baseball diamond. Lethal. A top-quality addition at SP could put them over the hump in a thinning NL Central division.
SP Jake Odorizzi resigns with MIN for 1 year, $17.8 million
If you are a Twins fan, you are grinning from ear to ear at the sight of this. The 29-year-old ranked 9th according to ESPN stays for another year as a number 2 starter behind José Berrios. Especially with the news of losing Kyle Gibson, the Twins couldn't afford to lose Odorizzi as well. With a 15-7 record and a 3.51 ERA, Odorizzi only has room to grow at his young age. He'll be in a Twins uniform if he blossoms this year.
C Yasmani Grandal signs with CWS for 4 years, $73 million
The first true big splash in 2020 free agency, Yasmani Grandal inked a rather lavish deal with the Chicago White Sox to start the splurge in Southside Chicago. The White Sox believe its time for them to contend is now. The first move in 2020 free agency involved resigning their star 1B and 31st ranked free agent José Abreu for 3 years, $50 million. They follow up with the signing of the top catcher in free agency, the 8th ranked free agent, for 4 years, $73 million. Alongside SS Tim Anderson, 2B Yoan Moncada, and a young pitching core, the White Sox could do some damage if they pull the right strings this year.
SP Zack Wheeler signs with PHI for 5 years, $118 million
Okay here's the deal with this particular deal. Yes, the 4th ranked free agent and 3rd starting pitcher signed very early. Yes, he decided to sign with a division rival. Yes, that division rival just so happens to be a loaded Philadelphia Phillies that added names like Bryce Harper and JT Realmuto last season. But, think about what this means for Gerrit Cole (2nd ranked free agent, 1st ranked SP) and Stephen Strasburg (3rd ranked free agent, 2nd ranked SP). This huge contract is simply the foundation. Surely, their contracts will be bigger. Wheeler will provide amazing firepower to the Phillies rotation that already has former All-Star Aaron Nola. It will be exciting, however, to see where Cole and Strasburg sign and for how much.