Portland Trail Blazers sign Forward Carmelo Anthony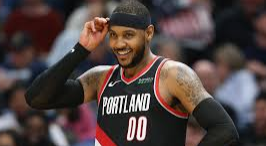 After over a year since his last NBA game, PF/SF Carmelo Anthony signed a one-year, $2.15 million non-guaranteed contract with the Portland Trail Blazers. The money becomes guaranteed if Melo stays on the roster in January. Donning the number #00, Anthony made his Blazers debut on November 19th and made an impact right away, scoring ten points and grabbing four boards in a 115-104 loss to the New Orleans Pelicans.
Anthony, now 35 years old, started his career at Syracuse University and was drafted 3rd overall in 2003 by the Denver Nuggets behind only LeBron James and Darko Miličić. With ten All-Star appearances over 17 seasons and five different teams, it is safe to say Carmelo Anthony lived up to the hype surrounding him as a 3rd overall pick. He is 19th on the all-time NBA scoring list and is averaging 24.0 PPG and 6.5 RPG over his career. Anthony continues to produce at age 35 and will likely have a continuous starting role for the Blazers as they try to turn around their season that started horrifically. A 5-9 record when they signed Anthony, the Blazers desperately needed scoring and defense, which could have been one of the reasons that they signed Anthony, he provides both as a starter for the Portland team that also boasts stars like Damian Lillard, Hassan Whiteside, and CJ McCollum. With a starting five like they have, the Blazers should be higher in the Western Conference, but sit 14th in the standings.
Many current stars took to Twitter to express congratulations to Anthony for his return to the league after being signed by the Houston Rockets last year only to be released after ten games. These stars included LeBron James, the man who was drafted two picks before Anthony, who said "So happy for my brother [Carmelo Anthony]!!!! Just saw him warming up for the game on the TV and it made me smile. Back at it Champ! Good luck". LeBron isn't the only one excited for the return of Melo. Senior James Neri says that he speculates that Melo will make an impact, but says that "hopefully when [PG Damian Lillard] gets back [from injury], the answer will be clear to the franchise". Lillard is expected to return from injury soon and, if all goes right, the Blazers could bounce right back into Western Conference contention.