South Windsor Field Hockey moves forward in their State Tournament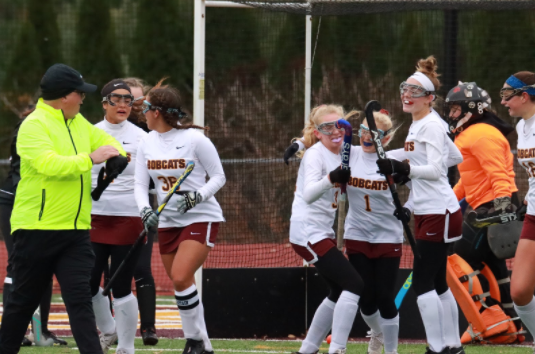 On November 12th, South Windsor went head to head against the ninth seed team, Fitch High School in the first game of the state tournament. The Bobcats defended their home turf and brutally dominated the game, successfully defeating the Fitch Falcons with a final score of 5-1.
South Windsor's domination of the game began early in the second half. The connected passes and strong cuts for the Bobcats pushed them above Fitch's ability. Fifteen minutes into the first half, the Bobcats center forward, Lindsey Osit, added the first point for the Bobcats to the scoreboard.  Defensemen, Chloe Kapisak and Liliana Valente blocked up any chance that the Falcon's had to get the ball in the goal. By halftime, the Bobcats were up 1-0 and feared that the game may still not be completely in their hands. Within the first five minutes of the second half, Lindsey Tortora added a goal for the Bobcats. As the game continued, the Bobcats successfully held majority possession. Fitch was unable to penetrate through the Bobcat's defense. Osit scored her second goal of the game boosting the Bobcats lead to 3-0. Midfielder, Isabella Sanchez continuously shut down any chance the Falcons had to move the ball over the 50 yard-line. With fifteen minutes left in the second half, left forward, Anna Kim scored two goals within the same minute. The Bobcats continued to move the ball around the field in their possession with strong, fast and accurate passes.
Later in the game, the Bobcats brick wall defense unfortunately slipped and let a  Falcon's goal through. Discouragement did not overwhelm the Bobcats as they still found confidence within the score of the game. The Bobcats successfully maintained their lead and ended the game with a 5-1 win. Midfielder, Maliya Haddock says, "I thought we played really well in our first game of the tournament. If we keep up the energy and intensity we have a chance at defeating our next opponent as well."