A Synopsis of the Six MLB MVP Finalists
After a wild MLB season that ended with the Washington Nationals bringing home their first championship in franchise history, the MLB awards are upon us. The most coveted award in the MLB is the AL and NL MVP. It has been narrowed down to six finalists; three in the American League and three in the National League. I'll break down each finalist's numbers and their road to their finalist nomination.
          American League Nominations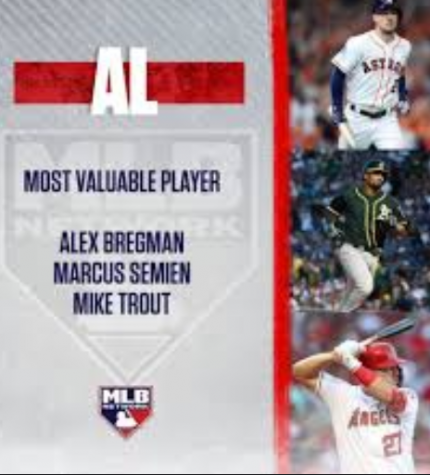 3B Alex Bregman, Houston Astros
Alex Bregman was a huge part of the success of the 107-win Houston Astros team that had plenty of star power. Bregman, however, could not be outshined. His 41 homers and 112 RBIs put him 3rd and 5th respectively in the American League. He also has the highest WAR (Wins Above Replacement) number in the AL, with 8.4, putting him just in front of Mike Trout. WAR is a collection of six different offensive stats that are calculated in a formula that takes those numbers and puts them in retrospect with games played. The higher the WAR, the better offensive player you are that year. Bregman isn't just an offensive threat, though. He was also nominated for the AL Gold Glove at third base this year, putting him close to the top defensively at the hot corner.
CF Mike Trout, Los Angeles Angels
Speaking of Mike Trout, he is also nominated for AL MVP. While Trout is arguably the greatest player to step onto a baseball diamond in today's MLB, it is often overshadowed by the fact that his Angels team is not very good. Trout, however, never fails to produce. More homers than Bregman but fewer RBIs and a lower WAR by .1 means he and Bregman are neck and neck in terms of numbers. But here's the catch: Trout went through season-ending surgery on his foot and his season was cut a month short. Had he played as many games as Bregman, he might have passed him in other categories. Trout, like Bregman, also failed to capture a Gold Glove after being named a finalist. However, this MVP race is certainly not a two-man race.
SS Marcus Semien, Oakland Athletics
It is odd to see all three AL MVP finalists coming out of the same division, but that's exactly what we get with Bregman, Trout, and Marcus Semien coming out of the AL West. Semien, a virtual unknown, was one of the leaders of the top AL Wild Card team. Semien played all 162 regular-season games and the wild card game, which they lost. Not many players, however, can claim to play in every game for an entire season. He had the most at-bats of any MLB player (747) and his .285/.369/.522 batting line helped get him the third-best WAR in the AL behind Trout and Bregman. He is also still relatively young and could be a huge piece of an Oakland A's playoff team in the future.
          National League Nominations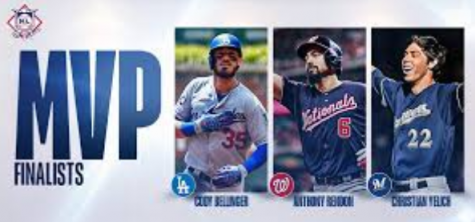 1B/OF Cody Bellinger, Los Angeles Dodgers
Last year's NL Rookie of the Year is in the running for NL MVP after another monster season for the Dodgers. Earning a Gold Glove for his play in Right Field, Bellinger also raked 47 homers and 115 RBIs for a 106-win team that clinched their ninth straight NL West title. Bellinger also ran away with the WAR title, getting the highest WAR in the MLB with a monstrous 9.0. Fortunately for Bellinger, the MVP award is based on regular-season performance. This works in Bellinger's favor more because he and his Dodgers suffered an early exit in the playoffs to the Washington Nationals, who ended up winning the whole thing.
RF Christian Yelich, Milwaukee Brewers
Like Trout, the root of Yelich's case for MVP is the fact that his season was cut short in early September. His fractured kneecap sidelined him for nearly the entire month of September, but the defending NL MVP still managed to put up better numbers than his previous season than won him the crown in the first place. He boasted 44 homers and a .329/.429/.671 batting line for a Brewers team that he helped elevate to the playoffs despite not being there for it. Yelich, like last year, has some competition if he wants to keep his NL MVP crown
3B Anthony Rendon, Washington Nationals
All hope seemed to be lost for the Washington Nationals. Their star player in Bryce Harper went to a division rival through free agency and a monster contract and the Nats started the season 24-33 through two months, an abysmal start for any team. Then, they got their new star: Anthony Rendon. Rendon led his team out of the NL East basement and finished the year with a .319/.412/.598 batting line and led the league in RBIs with 126. His 44 doubles led the NL and he achieved a career-best for home runs with 34. While it won't matter for Rendon's MVP case, he and his Nationals ended up beating both Bellinger's and Yelich's team in the playoffs en route to a World Series Championship.