Andy Ruiz Jr. Defeats Heavyweight Champion Anthony Joshua in Legendary Upset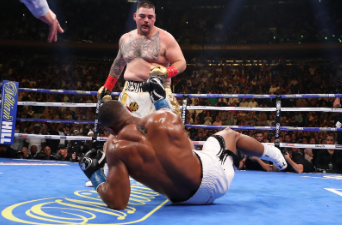 Last Saturday, Andy Ruiz Jr. pulled off the upset that sports fans across the world will remember for a long time. Anthony Joshua came to New York very confidently, as he was at the time the Heavyweight champion, but that would soon change. The overwhelming majority of boxing fans gave the advantage to Joshua, demonstrated by Vegas's odds as they reportedly had Ruiz as an 11-1 underdog before the fight began. This fight was intended to be a formality, as Joshua was supposed to score a huge knockout that would serve as the launching pad for the British mega-star to raise his profile in his United States debut. Instead, Andy Ruiz walked into Madison Square Garden with several weeks of training under his belt, and confident that he would shock the world, making all his hard work over the years pay off with his dream coming true. He did just that.
Ruiz started off the fight a little behind, as Joshua managed to take control early by landing a right-hand jab to the outside of Ruiz. After the end of Round 2, most people were giving Joshua the slight edge in the fight, but that would soon change. Round 3 is where the atmosphere of the fight completely changed. Round 3 featured the first knockdown of the fight by the hands of Anthony Joshua when he landed a devastating left hook sending Ruiz to the floor. In almost movie-like fashion, Ruiz responded by dropping Joshua moments later with a left hook of his own. At the end of the Round Ruiz knocked down Joshua again with a straight hand jab, leaving Joshua down for 8 seconds, nearly finishing the fight.
Rounds 4 through 6 took a step back from the action-packed 3rd Round. Both fighters looked like they were trying to conserve energy, as there were limited highlights from these rounds. The notable thing was that Joshua started to bounce back with strong left hooks that connected against the Mexican, which started to edge the momentum towards Joshua going into Round 7. For anyone who watched the fight, they know that momentum didn't last long.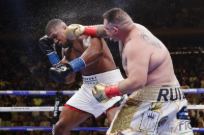 Round 7 is where Andy Ruiz Jr. capped off his legendary upset.  by dropping Joshua two more times. The 2nd time Joshua went down he was pulled off the corner of the ring where the ref asked him a series of questions regarding if he could continue to fight. Whatever the ref heard from Joshua made him end the fight, giving the victory, and the heavyweight championship to Andy Ruiz Jr.
Ruiz's victory Saturday made the heavyweight champion the first boxer of Mexican descent to win a heavyweight title. Several boxing analysts around the world have already talked about naming Round 3 of the fight as the best boxing round of the year, as it featured a movie-like retaliation from Ruiz.
"I wanted to prove all the doubters wrong who thought I was going to lose. Whaddya know? I'm the first Mexican heavyweight champion of the world," a smiling Ruiz, said at the post-fight news conference. "It's a blessing. I'm still pinching myself to see if this is real, man."