Projected No. 1 Overall Pick in NBA Draft Goes Down with Knee Injury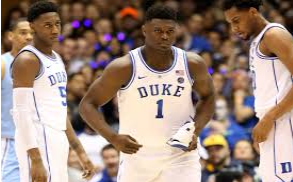 On Wednesday night, Duke freshman, Zion Williamson, hurt his right knee 33 seconds in a highly anticipated match against North Carolina. Williamson was dribbling along the left side of the arc and came into a jump-stop right next to the free-throw line, where his left shoe ripped apart as he planted. The outside sole of the shoe ripped completely apart as he foot went through the shoe. Duke would go on to lose the game 88-72, as they could never really find a rhythm after Zion was ruled out for the game with a "mild knee strain".
"It put everyone in the position of having to figure it out, playing without him, while playing a really good team. It's not a good situation, "Duke head coach Mike Krzyzewski said about the loss. Coach Krzyzewski would also tell reporters after the game that Zion was stable and an approximate time for his return would be announced on Thursday. It was later announced on Thursday that Zion is "day to day", and is hopeful to make a quicker comeback than expected.
After Zion's injury, it has started to raise some questions as to what Zion should do going forward. One viewpoint that has grown recently is that he should sit out the rest of the season, in order to secure his draft stock and to prepare for the NBA. Others believe that this injury is simply a freak accident, that wouldn't have happened if his shoe hadn't exploded. Quite simply, he should take as much time as needs to feel better in that knee, and return to help Duke try and claim another National Title in March in April.
I was fortunate enough to speak some college basketball fans at South Windsor High School about what they think about the Zion situation. One of these fans is sophomore, Kenneth Cotler, who I asked what Zion should do about this situation, "I don't think he should sit out the rest of the season because he only has one chance to be a college player. After this season, he will undoubtedly go the NBA for several years. Let him be part of a college atmosphere for at least a full season. "
Duke currently sits ranked as the number one team ranked in the college basketball rankings in both the AP Poll and the ESPN Coaches Poll, but is bound to drop after their loss on Wednesday. Even if Zion were to end his season now, Duke would still be a favorite for the National Title and to receive a number 1 seed in the tournament with McDonald's All-American freshman R.J. Barret, Cam Reddish and Tre Jones (all currently projected in this year's draft). With Coach K diagnosis of Zion being "day to day", it would appear as though Zion will come back. But, will that come back to haunt him?