Steelers edge Patriots, end 5-game losing streak against team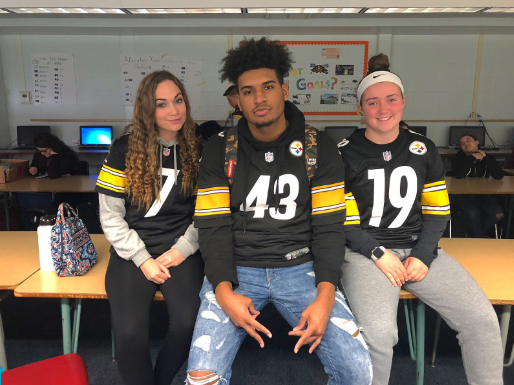 Jessica Polito
December 20, 2018
Last Sunday, the Pittsburgh Steelers beat the New England Patriots with a score of 17 to 10, ending their 5-game losing streak against the Pats. This win also snaps a 3 game losing streak that has made the playoffs hopes for the team foggy, especially with the division-rival Baltimore Ravens looking red-hot with rookie QB Lamar Jackson. 
Senior, Makayla Foran, explained that "Honestly, going into that game, I thought the Steelers were gonna lose, I was like, 'It's gonna be 4 L's in a row." With the reputation that the Patriots have, many Steelers fans were pleasantly surprised by the outcome. This win broke their 5-game losing streak against the Patriots. Senior, Sarah Gallagher, said that "It was amazing, my family has been waiting for that for a few years. They haven't won since like 2011. It was pretty awesome to see, but still pretty nerve-wracking." With breakout star RB James Connor out with a serious ankle injury, Steelers fans were concerned that this would hurt their chances. But Gallagher was happy to report that "[Jaylen] Samuels and Joe Haden really stepped up that game, which will affect them in the future." Samuels, a running back for the Steelers, did step up that game. He had 142 yards and 19 carries.
Not everyone had a great game, however, as both teams struggled to make passes. Patriots fan and Senior, Mitchell Bagcal, expressed that he, "only watched the ending, and it made me really mad because we couldn't get a pass. The Steelers defense was clamping us. I hated it. I hated every second of it." One of their usual star players, Rob Gronkowski, only had 2 catches. Plus, they faced 14 penalties. When asked if he thought this game would negatively impact the Patriots, Bagcal said, "Yeah, we needed that game to clinch the AFC, but that didn't work." Patriots fans were devastated, but Die hard Patriots fan and Senior, Cameron O'Connor, believes it was just a fluke win. He explained that "I have faith in Tom and the boys."
So what does this win mean for the Steelers? Well, Shai Harrison expressed that since in the past few years, the Steelers have continuously lost the game to go to the Superbowl, "they're going to have it in their head, and make it a mission to make it to the Superbowl this year. That was the fire we need to continue out." After the win against the Patriots, the Steelers are now 8-5-1. Gallagher is insistent that this game was important for the Steelers. "It really showed that they can win even if they don't have their best players in the game," she proclaimed.
As the season continues, many fans want to know which teams will be going all the way to the Superbowl this year. Bagcal argued that "with big teams like the Chiefs and the Patriots going down, anything could happen." It's tough to say whether this game will be a turning point for the Steelers, but time will tell. Regardless, Gallagher explained that "Beating the Patriots was a good feeling to have, especially since there aren't many Steelers fans in the school." The Steelers round out their regular season with games against the Saints and the Bengals. With wins against both of these teams, the Steelers will clinch their division and a spot in the playoffs.