The Internet Needs to Stop Making Teenagers Famous for Nothing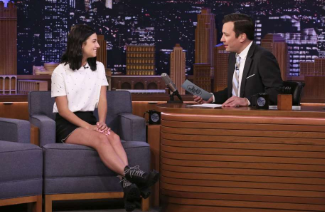 The internet has developed a strange habit of making random teenagers famous for little to no reason. Take Charli D'amelio, for example, the fifteen year old "reigning queen of TikTok," according to the New York Times. Her account on TikTok, a social media platform where users can share short video clips ranging from comedy skits to viral dance routines, has garnered over 39 million followers and 2 billion likes as of March, 2020. She's signed with United Talent Agency and has interacted with celebrities like Jennifer Lopez and James Charles. Recently she's even been on talk shows such as Live with Kelly and Ryan and The Tonight Show Starring Jimmy Fallon. 
What has she done to gain that following and get those opportunities? She records herself dancing and lip syncing to various songs and audio clips and posts them online. And that's a great hobby for a teenager. But is it something that should earn her almost 40 million fans?
She isn't the first case of this happening, and she undoubtedly won't be the last. Remember Danielle Bregoli, better known as Bhad Bhabie or the "Cash Me Outside" girl? She got famous for being disrespectful on the Dr. Phil show, and now she's a musician with the same attitude, but also 17.5 million Instagram followers at sixteen years old. Have you heard of Mason Ramsey, the thirteen year old boy that became famous in 2018 after a video of him yodeling in Walmart went viral? He performed at Coachella. And the Grammy's. 
There are of course other young celebrities that have risen to fame in recent years. The main cast of Stranger Things were in their early teens when the show became popular. Lorde was only 16 when she topped the US charts. But those celebrities were made famous by their talents and hard work, not because the internet simply found them somewhat amusing. 
Is that America's standard for fame and wealth? Somewhat amusing? And if it is, should it be? 
Although teens like Charli D'amelio obviously have a lot of fans, there are of course people that take a completely different stance on the topic. According to SWHS Senior Mackenzie Mason, "If what you're creating for the world is genuine, that's art and I would never bash that. But this trend of taking something that literally millions of other people have done and adding nothing to it, just to be able to say 'I can do this too' and getting praise for it is the resultant of a society that makes life easier for anyone with a pretty smile and a skinny waist."
It's important for people to be thoughtful about who they're giving a platform to. Fame at a young age can be incredibly damaging, especially for people who come into it completely unexpected. Nobody knows what's going to become of the youth that the internet has made famous recently. What we do know is that many of them were pushed into the spotlight for doing absolutely nothing, regardless of whether they deserved to be or not.