Monumental leak plans attack on women everywhere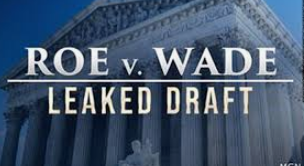 The Supreme Court is poised to strike down Roe v Wade entirely, with Justice Samuel Alito saying there is no right to privacy in the Constitution that would justify legalizing abortion. 
With a decision such as this, America transposed into the early 20th century undoing the tremendous progress women have made in fighting for their rights. 
As this final voting on this decision approaches, it is imperative that the people know what this decision entails. If this case is overturned, the legality of abortion would be up to each state. 
From the start, 26 states have voted to restrict or ban abortion and in these decisions, neighboring states are preparing for a surge of clients from these states. Nicholas Creel, an assistant professor of business law at Georgia College & State University who specializes in constitutional law, suspects agreeing states will start to place restrictions on abortion via pills. 
In lieu, one of the first states to become an open supporter of tis bill, Texas has made it a felony to receive an abortion through medication after seven weeks of pregnancy, far before a woman can be aware of what is going on. 
"They are doing this even though they know it is in plain violation of the current legal standard, a standard they expect to be overturned before challenges to this law even make it to the Supreme Court," Creel said. 
According to Lanthe Metzger, the director of state media campaigns with Planned Parenthood Federation of America, akin to the bans passed in Texas, 2021, more states will follow and being to penalize those who provide and receive abortions within those territories.
 "And as we saw with Texas' S.B.8, they may have clauses like a private right of action, or what we've been calling the 'sue thy neighbor' provision, which not only puts providers and support networks at risk of frivolous lawsuits but strike fear into abortion patients and their loved ones," Metzger said. 
As this bill moves forward, the repercussions are unmeasured. 
As the reproductive rights of women are challenged, next comes the topic of contraception. 
Based on the reasoning for an overturn on Roe v Wade, legal experts predict Griswold v Connecticut (protects the right of privacy and legalized birth control) may be next. 
"Some Republicans have already expressed opposition to Griswold, suggesting that precedent could be challenged in court next, such as Sen. Marsha Blackburn (R-Tenn.) and Arizona Senate candidate Blake Masters."
"Even if Griswold isn't overturned, some abortion bills already threaten contraceptive methods like Plan B, such as a bill that's moving forward in Louisiana and Missouri's "trigger ban" to outlaw abortion as soon as the court overturns Roe."
Upon the uprising of these bans, the definition of the life of an unborn child may broaden to fertilization or conception criminalizing contraceptives such as Plan B and abortion pills.
"Tennessee Gov. Bill Lee (R) signed into law last week legislation that will criminalize distributing abortion pills. A viral tweet by attorney Pam Keith falsely claimed that law would outlaw Plan B, but the legislation is focused on medication that would induce abortion, which is separate from the emergency contraceptive."
68% is the share of U.S. adults in an April Morning Consult poll who said states should provide free access to birth control if Roe v. Wade is overturned. 
Mass majorities—including approximately half of Republicans—say they'd support making birth control even more accessible if abortion is restricted, with 65% backing increased public funding for family planning and birth control services and 62% favoring requirements for all employer health insurance plans to cover birth control.
As this case broadens corporations have taken sides and pronounced their standings publicly. 
A short list of companies standing with women are Starbucks, Apple, Citigroup, Salesforce, and Yelp, and have put out that they will cover varied expenses for women who must leave their states to receive reproductive assistance. 
As well as the women owned company STIIX and in accordance with these recent events, they have announced that they will be shipping 1000 doses of their product "restart" that acts as an emergency contraceptive, as well as starting a donation bank where you can request a free dose or donate one. 
As time progresses, more will come to light as sides are chosen and logistics revealed, but a decision is to be expected later this summer.