What is really causing the rising gas prices?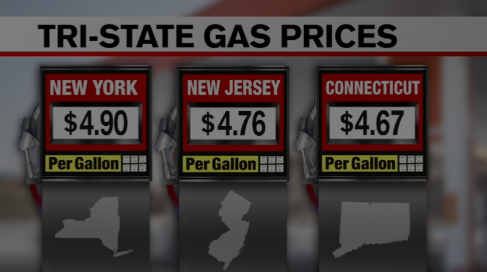 Gas prices have officially hit a record high, prices around the board have risen about 40c across the country, and diesel has also just hit a record high cost, and it's estimated that the price of standard could hit $4.50 per gallon very soon. 
 BP station in New York City was charging credit card prices of $6.99 for regular, $7.29 for silver, and $7.49 for ultimate grade gasses. 
The surge on the West Coast is frightening as in California some stations have reached above $7 per gallon for only regular gas. 
"The high cost of oil, the key ingredient in gasoline, is driving these high pump prices for consumers," Andrew Gross, the spokesperson for AAA said in a statement.
The rise in gas prices have also led to a rise in natural gas prices which has rose the prices of home heating, cooking, to fertilizer and wholesale electricity, to their highest prices in a decade 
"Against a backdrop of gas prices that have continued to set new records ahead of Memorial Day, Americans have been resilient in their desire to hit the road, but we're certainly seeing increased hesitancy due to rising prices at the pump," Patrick De Haan, who does petroleum analysis for Gasbuddy said.
A hesitancy of driving around during memorial day and traveling by car could lead people to stay at home during memorial day, and not go out with any of their friends and family, or try to make a meeting point so they don't need to drive as far.
While we can't do much to avoid the high gas prices currently there are strategies you can use to help out your wallet.
Conducted in February of 2022, a survey by GasBuddy found that gas is the cheapest on Mondays in most states across the country, and Wednesday, Thursday and Saturday were the most expensive days. 
Now that might sound crazy, but when gas prices are $4.70 per gallon, anything can help.