Banning books – protecting or hurting students?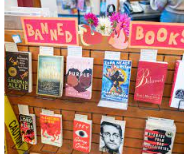 For as long as education has been running in our world, books have been a main source of learning. Public libraries and school libraries are places where students can spend the majority of their studying time. In today's society, our resources as students are being limited. Across 86 school districts in 26 states in the United States, over 1,000 books have been banned (CNN).
Banning books has become a trend for schools throughout the country, as it is believed some books being used in schools can possibly hurt more than help the students. On the opposite of that argument, some people believe that by banning books, you can shield the students from reality. 
As one of the first states to start banning books, "a bill was introduced in the State Senate that would prohibit public school libraries from keeping books on hand that focus on sexual activity, sexual identity or gender identity," in Oklahoma according to New York Times. In today's society it is important to create comfortable environments for students. The idea of this bill for prohibiting these books was brought up because of the topics in these books that could draw attention to unusual sexual relationships or circumsatances. 
Along with books focusing on sexuality, books about race have also been main targets on the lists of banning books (New York Times). The people creating these lists believe it is better if certain issues or controversial topics are just not spoken about. On the other hand, some believe that it is important to expose students to issues in society, such as race, to help promote diversity. 
One of the most interesting things about this new system is, it is not just normal books from libraries being banned. News4Jax reveals, "In its review of 132 math textbooks that were submitted for consideration, the Florida Department of Education rejected 54." (News4Jax) These rejected books have topics brought up in word problems that are found to be inappropriate. 
SWHS librarian, Ms. McCool has strong feelings about this situation. She is a part of many different book groups with teachers across the country, through which she hears about the book banning in other states. Ms. McCool explained that this situation is upsetting, as it can cause different groups to be left out or forgotten. 
Luckily, there are no books being banned in Connecticut as of right now. Hopefully it stays this way and we can bring awareness to stop this situation.