South Windsor Local Jack Hathaway Selected for New NASA Astronaut Program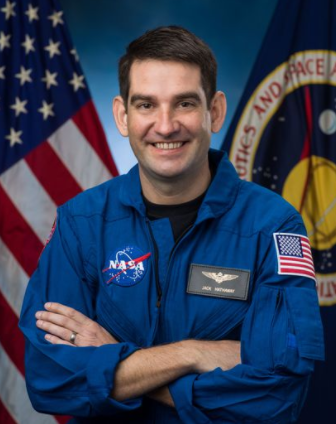 After an amazing military career and a surprising email, a South Windsor native is reaching for the stars, literally.
South Windsor native Jack Hathaway was selected earlier this month to become one of the country's newest astronauts. He received a surprising email from the Chief of the Astronaut Office at NASA, saying that he was "one of 10 individuals selected from a field of more than 12,000 applicants to join NASA's first new class in four years," according to the Hartford Courant, one of the most trusted news sources for Hartford County.
Hathaway, having an extremely decorated career in the naval air force, was documented to be "the prospective executive officer for Strike Fighter Squadron 81." The Courant says, "He has over 2,500 flight hours in 30 types of aircraft, more than 500 carrier arrested landings, and flew 39 combat missions." Clearly a very impressive resumé.
As well as having an extensive military career, Hathaway, a SWHS graduate, went to the "Naval Academy in 2004. Earned a master's of science in flight dynamics from Cranfield University in 2014," NASA's official website quoted. He also "Earned a master's in national security and strategic studies from the U.S. Naval War College. Hathaway also graduated from Empire Test Pilot's School in 2011, part of Fixed Wing Class 70."
Hathaway's incredible amount of experience has reaped him considerable rewards for his work. "He has earned numerous awards and honors during his Navy career," states the South Windsor edition of The Patch, one of the biggest town newspapers. "Including the Defense Meritorious Service Medal, Strike Flight Air Medal; Navy Marine Corps Commendation Medal (two awards); Navy and Marine Corps Achievement Medal (two awards); and 2013 VX-23 Test Pilot of the Year." Clearly a very decorated career. 
As well as having an outstanding military career, Hathaway was also involved in the local community as well. Hathaway was "A former Eagle Scout with Troop 186 in South Windsor," said The Patch.
"Jack, who went by Chris at the time, was a great student with a great sense of humor," quoted Mrs. Field, a SWHS Marine Science teacher who taught Hathaway during his high school career.
Clearly deserving of the position, Hathaway will be reporting for duty at NASA in January of 2022, and will be departing a proud South Windsor for a future in the stars.