SCOTUS Agrees to Take on a Major Abortion Case That Could Challenge Roe v. Wade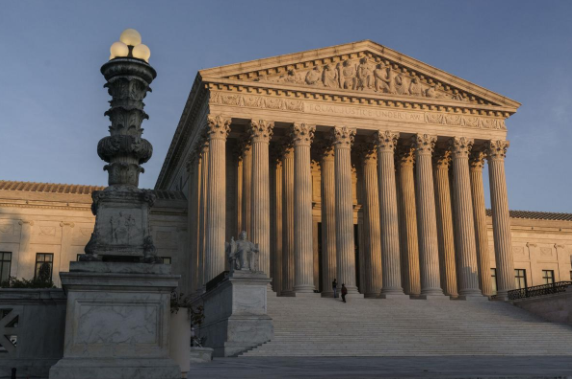 This past Monday, the Supreme Court agreed to take on a Mississippi abortion case that could possibly undermine Roe v. Wade, the 1973 case that granted women's constitutional rights to safe abortions. The case, known as Dobbs v. Jackson Women's Health Organization, challenges a Mississippi law that prohibits nearly all abortions after the 15th week of pregnancy. Mississippi legislators are asking to enforce an abortion ban after 15 weeks of pregnancy, except in a medical emergency or in the case of a severe fetal abnormality, but not for instances of rape or incest. 
Although Mississippi is not asking the court to overrule the 1973 Roe v. Wade decision or a decision 19 years later that reaffirmed it, many pro-choice activists are worried and alarmed about the future of reproductive rights in America.
"Alarm bells are ringing loudly about the threat to reproductive rights," Nancy Northup, president, and CEO of the Center for Reproductive Rights said in a statement. "The Supreme Court just agreed to review an abortion ban that unquestionably violates nearly 50 years of Supreme Court precedent and is a test case to overturn Roe v. Wade."
The court is focusing the case on one central question concerning viability — if it is constitutional for states to ban abortions before a fetus can survive outside the womb. The sole abortion clinic in Mississippi presented evidence that viability is impossible at 15 weeks, and the appeals court said that the state "conceded that it had identified no medical evidence that a fetus would be viable at 15 weeks." Viability occurs roughly at 24 weeks, the point where babies are more likely to survive. But Mississippi argues that viability is an arbitrary standard that doesn't take sufficient account of the state's interest in regulating abortion.
"The Mississippi Legislature enacted this law consistent with the will of its constituents to promote women's health and preserve the dignity and sanctity of life," Mississippi attorney general Lynn Fitch said in a statement. "I remain committed to advocating for women and defending Mississippi's legal right to protect the unborn."
The case will be argued for probably up to a year, with a decision likely in the spring of 2022 during the campaign for congressional midterm elections. If the court upholds Mississippi's law, it would be its first ratification of an abortion ban before the point of viability, and would also lay the groundwork for allowing even more restrictions on abortion, including state bans on abortion once a fetal heartbeat is detected, as early as six weeks.
CNN Supreme Court analyst and professor at the University of Texas School of Law Steve Vladeck says, "This will be, by far, the most important abortion case the Court will have heard since the Casey decision in 1992. If states are allowed to effectively ban abortions after the 15th week of pregnancy, as the Mississippi law in this case does, then pregnant women would have a far shorter window in which they could lawfully obtain an abortion than what Roe and Casey currently require."
There is currently only one operating abortion clinic in Mississippi, Jackson Women's Health Organization, also known as The Pink House. Within a statement from the owner of the clinic, Diane Derzis, spoke about what the ban could mean for her patients.
Derzis said, "If this ban were to take effect, we would be forced to turn many of those patients away, and they would lose their right to abortion in this state. Mississippi politicians have created countless barriers for people trying to access abortion, intentionally pushing them later into pregnancy. It's all part of their strategy to eliminate abortion access entirely."
The court's decision to hear the Mississippi case, after considering it more than a dozen times, indicates that there are sharp divisions among the court's conservatives about how boldly to address the constitutional status of abortion rights.