London-based Oat Milk Brand Defaces Philadelphia Street Art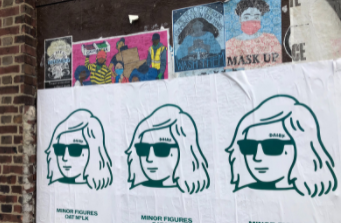 In the streets of Philadelphia there is one unspoken rule within the local street art community–don't cover pre existing work without permission. Despite this, a London-based oat milk brand Minor Figures destroyed the work of local street artists and muralists around Philly this past month.
Founded in 2014, Minor Figures sells oat milk in recyclable packaging. The brand is sold at Whole Foods, which has two Philadelphia locations, as well as specialty retailers in 6 other states. As advertising for their brand, multiple rows of posters promoting their product were glued on top of existing street art in at least five locations. The ads affect a minimalist artistic style, being white with an outline illustration of a person in shoulder-length hair, sunglasses, and face tattoos, with text that reads "Minor Figures Oat M*lk."
The ads now cover original murals and wheatpastes promoting food justice, COVID safety, and thanking essential workers. The posters also covered pieces commissioned by Mural Arts, Philadelphia's citywide public art program. You can't take down wheatpaste posters without shredding what's beneath them, therefore the ads aren't really removable.
In a public statement, executive director of the city's Mural Arts organization Jane Golden said, "Minor Figures is very presumptuous to come to our city and cover works of art in such an offensive manner, and we hope they'll reach out to us to make this right."
In response to this incident, local artists in Philadelphia have begun to deface the ads, including Philly's own street art legend Kid Hazo. Hazo installed Major Failures, a new wheatpaste calling out the oat milk brand. For the wheatpaste, Hazo mocked the oat milk company's branding, replacing their questionable logo with a clown's head sporting a crossed out "woke" tattoo above its left eye. Under this clown head Hazo has in text, "Major Failures, Clown M*lk".
After the large amount of backlash, Minor Figures offered a sort of apology on their Instagram in which they claimed they purposefully hired local artists to put up the ads. The company's response was criticized for its dismissive and casual tone, contradictory statements, and personal attacks, eventually encouraging Minor Figures' CEO Stuart Forsyth to apologize again. 
"Our posters have unfortunately been posted over important local community artworks, which was a mistake," Forsyth said. "We take full responsibility, and we are working to rectify this in the most appropriate way."
Many artists and prominent figures in the street art community have been left highly displeased and claim that they just want to see more support for the Philly art community, calling for the company to kick in some funds that make an impact locally. Photographer and art curator Conrad Benner who runs an art blog by the name of StreetDepts said, "These sacred spaces should be reserved for local artists. Folks use them to reflect the world around them."