Controversial new Voting Bill in Georgia sparks pushback, potential Boycotts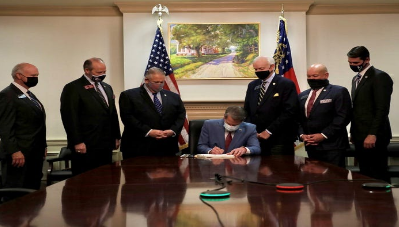 ¨It`s Jim Crow in the 21st Century,¨ President Biden commented on Thursday about the new bill from the Georgia GOP. The bill, drafted after President Biden and Senators Ossoff and Warnock won their elections and flipped the state, has gained incredible pushback on a national scale for its new laws. The bill aims to restrict mail-in voting, allow Lawmakers to take power from Elections officials to give to who they see fit, restrict some aspects of Ballot Boxes, restrict voting on Sunday, and even make it illegal to give Voters and their Children food and water while in line. In the 2020 Election, some lines to vote lasted as long as 5 hours, especially in the Atlanta area. Brain Kemp, the Republican Governor of Georgia, gave a press conference hours after the bill was signed, saying "Georgia will take another step toward ensuring our elections are secure, accessible, and fair," a claim refuted by many critics on a national scale. 
Such critics, like Bernice A. King, daughter of Rev. Martin Luther King Jr., Al Vivian, son of Rev. C.T. Vivian, and John-Miles Lewis, son Rep. John Lewis, stated that "too many of our lawmakers failed to take a stand and corporations did not go far enough to ensure every voting citizen had fair and equitable access to the most basic of American rights." But the loudest critics of the bill are the very voters in the Peach State. According to a TargetSmart poll, over 70% percent of voters are against the overall bill, 70% against restricted ballot box rules, 76% against taking power from Elections Officials, and 77% against making it illegal to give people food and water in the line. While it was not polled, Sunday voting restrictions seem to be equally unpopular, as Souls to the Polls, a movement to ensure Black churchgoers vote, would suffer substantially. This new law especially is being compared to the days of Jim Crow. 
Lindsey Graham of South Carolina and Ted Cruz of Texas both defended the bill, despite having no connection to the State while attacking HR1, a voting bill that would reverse many new actions put forth in the Georgian bill, including new rules for financial contributions in Elections, limits Gerrymandering, and create new ethics laws for elections officials. HR1 is also known as the For The People Act or the John Lewis Voting Rights Act.
While Governor Kemp signed the Bill into Law under a painting of a Plantation, Georgia State Representative Park Cannon, a 24-year old, Black, and Openly Gay lawmaker, knocked repeatedly on the Governor`s door to view the signing. In a moment captured on Camera, Rep. Cannon was quickly arrested by Capitol Officers. She has been charged with two felonies, Felony Obstruction and Preventing of Disrupting General Assembly Session. Rep. Cannon could face jail time for protesting the bill.