A Bronx Zoo Tiger Tests Positive for COVID-19, the First Known Non-Domesticated Animal with the Virus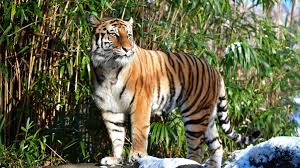 Amid the Coronavirus pandemic that has infected 1,450,343 people worldwide and killed almost 84,000, the first non-domesticated animal, a tiger from the Bronx zoo became sick from the virus. 
Nadia, a four year old Malayan tiger, along with her sister, Azul, two Amur tigers and three Afircan lions contracted the virus at the Bronx Zoo in New York City. The tiger Nadia had a dry cough and a slight loss of appetite on Sunday, April 4th, and was tested positive by the University of Illinois, Cornell, and the National Veterinary Services Laboratory for Coronavirus.
No one knows where these big cats got the virus. The Zoo thinks that it might've been an asymptomatic or presymptomatic keeper, but everyone they've tested has been negative. The Zoo's chief veterinarian, Paul Calle, said in a statement that he expected all the animals with the virus to make full recoveries. 
The Bronx Zoo has been closed since March 16th, and has about 300 essential employees tending to the animals. With the new coronavirus cases, the keepers are no longer allowed near the animals while giving food or treats. Extra precautions are being made for the Zoo's primates, like Gorillas. They're the closest animals to humans, and are susceptible to other illnesses and viruses, like the common cold and flu. 
Despite these big cats having gotten the virus most likely from a keeper, getting the virus from a domesticated animal is less than likely. So far, evidence suggests that animals like dogs, pigs, chickens and ducks can get infected by the Coronavirus and pass it to each other. Even though a wild bat was the infector of the first human to catch Coronavirus, there is no evidence to suggest that a human can catch the Coronavirus from an infected domestic animal.