A New Taste for the Future; Beyond Meat Partners with Multiple Fast Food Chains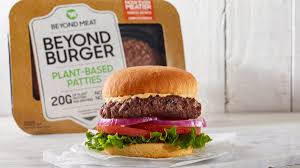 Just recently, the company Beyond Meat, decided to partner with fast food chain restaurants in order to provide consumers with a plant-based protein, to change the future of how we eat. The Beyond Meat Company ranges from plant-based beef, sausages, to the well-known burger, and also has recipes to help you cook certain foods. 
Beyond Meat has decided to partner with KFC, Uno, Subway, Dunkin' Brands, Tim Hortons, BurgerFi, Denny's, and many more chains. On Thursday, January 30, Denny's allowed customers to be able to try the plant-based burger for free, with a purchase of a drink. 
Beyond Meats ultimate mission is to find a better way to feed the planet. They aim to create a, "delicious plant-based burger, beef, sausage, crumbles, and more. By shifting from animal to plant-based meat, [they] can address four growing global issues: human health, climate, change, constraints on natural resources, and animal welfare." 
The meats that are created taste exactly like a regular burger, but the only difference is that they are plant-based, and no animals are killed in the process. It allows a wider range for customers, allowing vegetarians to also be able to purchase burgers without having to worry about eating actual meat. 
Ingredients that are found in the meat include protein, fat minerals, carbohydrates, and water, which are the basic five blocks of creating the meat. The protein found in the meat are peas, mung bean, fava bean, and brown rice. Fats are cocoa butter, coconut, sunflower, and canola oil. For flavors and colors, they extract juice from beets, apples, and use natural flavors in order to get the color and the meaty taste