Senior Night – Girls Basketball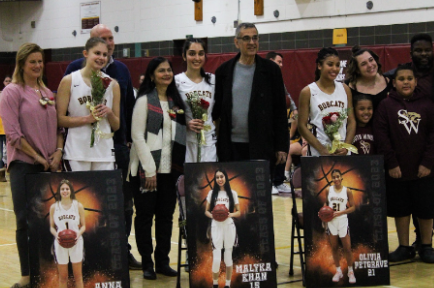 Once a year, the community of South Windsor joins together to wish our senior student athletes good luck with their future. Senior night is no ordinary basketball game, the energy in the gym is ecstatic as the underclassmen celebrate their idolized teammates.
On Monday, February 6th, hundreds of South Windsor High School students crowded the stands to celebrate this year's Senior Night.
Coach Keith Raczkowski joined the underclassmen in celebration of his beloved student-athletes. "It's been a pleasure to watch these young girls become exceptional women, I am extremely proud of their accomplishments and high standards on the court but I know I will be more proud of their successes in the future," said Raczkowski.
The girl's basketball team started celebrating their seniors early with their annual spirit tradition: underclassmen walked into school wearing crazy costumes selected by their seniors, while the seniors dressed up. Although this may seem embarrassing for the underclassmen, the Lady Bobcats viewed this spirit day as a way to close out the season on a memorable note. "Even though it was an embarrassing day for a lot of the new players, everyone was focused on the fun of the tradition. We were doing it for the seniors and that was all that mattered at the moment," commented freshman Avery Brochu.
South Windsor's Varsity Basketball team put up an amazing performance fighting for a final home-court win to close out the 2022-2023 season. Unfortunately, the night ended with a loss for the Lady Bobcats. However RHAM did not obtain this win easily, the Bobcats fought until the last minute, pushing the game into overtime.
Prior to the start of the game, the seniors and their families lined up outside to walk into their home gym one final time. The juniors waited at the entrance holding flowers for their seniors. One at a time, the seniors entered the gym with a roar of applause and an announcement which highlighted their plans for the future.
Although all seniors have different aspirations, each one is unique and will be extremely successful. All of the seniors look forward to their time in a college environment. "I'm looking forward to starting my career after high school. I recently committed to Dominican University and am excited to develop a career and continue to play basketball at a high level," said senior Anna Matus.
"I'm excited and looking forward to majoring in biology next year in college. Although I'm not sure what college. Although I'm not sure what college I am going to, I'm excited to see what the future holds," said senior Olivia Petgrave. Petgrave is finishing her 4th year playing for SWHS and is excited to explore her many options for college.
South Windsor's final senior, Malyka Khan is aspiring to accomplish a goal she has set for herself that will benefit many less fortunate people around the world. "I'm excited to start my pharmaceutical education to eventually a career as a clinical pharmacist. In the future, I would like to open a cost-free Pharmacy in my father's under-development village in Pakistan."
"I loved being part of basketball at SWHS. Over the past four years, I have created so many great memories and have been able to turn my friends into family. One of my favorite basketball memories was getting stuck on the side of the highway for an hour before one of our games. We played some games and I feel like our team was closer that day than it ever was," said Petgrave.
Even though SWHS's seniors look forward to their future accomplishments, they will never forget the memories of their High School Basketball careers. "Over the course of my career at South Windsor high school playing basketball I experienced many memorable moments. One of my favorite moments is our celebratory bus rides that take place after a big win," said Matus.
Despite the challenges thrown at the team during the season, each senior has a special memory. "I loved being a part of a team at SWHS. We all became a family. One of my favorite most recent memories is when we got stuck on the game bus in the middle of the highway for an hour and a half and had to occupy ourselves playing heads-up," remembered Khan.
The Senior Lady Bobcats of 2023 will be missed in the South Windsor High School building but their legacy will be left in the gym.
Leave a Comment
About the Writer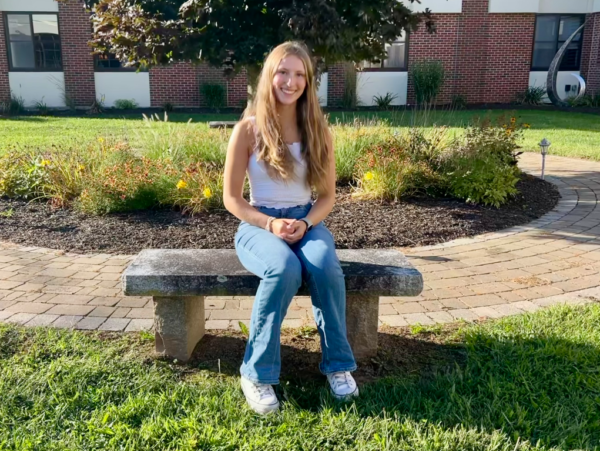 Eliza Blanchfield, Editor
Eliza Blanchfield is a South Windsor High School sophomore excited to write for The Bobcat Prowl. During her sophomore year, she looks forward to reporting on the many controversial topics at South Windsor...