Why Should You Write in Cursive?
Why is writing in cursive important in the modern world?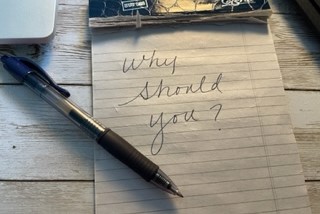 Have you ever noticed a difference between a time when you are forced to write with haste compared to a time when you are leisurely able to take how much ever time needed to write something specific? Well, this difference is often created through the disparity of discipline in the notion of writing, and this sense of discipline is what informs our brain to better hold more information from whatever is written down on the page.
Writing in cursive is often what comes to people's mind when they think about redundancy in writing and language arts in general. So, what could be the reason behind this?
It is because it requires a slower pace than when you are writing in an informal form, and people tend to rush their writing because of external factors such as a deadline for an assignment.
I believe that cursive should be a crucial part in literature, and in education in general, as it is not only going to make one's thoughts more clear not only to the writer, but also to others reading your writing. 
Another more crucial component that comes along with the practice of cursive writing is the ability to spell sentences and words better, without skipping over the proper pronunciation of that specific word or sentence. There is no set reason for this correlation between writing and speaking, but theories do exist such as how writing is in a one-way relationship with speech and how writing itself is derived from its commonality with speech.
This wayward phenomenon is often seen as a huge advantage. When one lacks in one of the two qualities, they can solely practice the side in which they are able to thrive at, and this work that would go towards the development of this one side, will also get translated into your proficiency with the other aspect. 
Now, how can this knowledge be applied to education as a whole?
"I think cursive writing is something that is universal and is something that just needs to be practiced upon repeatedly to get a hang of it, and I think this whole process of writing cursive is more satisfying and rewarding than writing informally without structure, because of how visually appealing it is," said South Windsor High School student, Jason Thockchom. 
"
I think cursive writing is something that is universal"
— Jason Thockchom
With a semi-structured curriculum on calligraphy/writing in cursive, students will become more aware of what they are writing and more willing to continue practicing because of the rewards that come with seeking a better  writing style, and this can latter on help with assignments that require handwritten responses.  
Overall, the notion of cursive writing is often taken in the wrong direction, but I believe that cursive writing is something to be cherished as it can be used as a tool that has infinitely possible applicable scenarios, and based on how it can simultaneously help with speech, the methods in which people grow with the type writing itself can prove to be worth the time and effort at the end of the day. 
View Comments (1)
About the Writer
Rishi Bala Meenakshi Sundaram, Staff Writer
Rishi Bala is a sophomore at South Windsor High School who is eager to write for The Bobcat Prowl. He enjoys playing tennis and participating in the Computer Science Club, when not in school, he is a Taekwondo...