The Babadook
A Cinematic Must Watch This October
While The Babadook has been out for nearly 10 years now, it is no surprise why it comes to my mind as one of the greatest horror films in cinematic history. From the score to the acting to the visuals, this is a film that will not disappoint. 
The story follows a single mother as she tries to raise her son while dealing with the grief of her dead husband. The child finds a book which is an indicative symbol of the babadooks' arrival. 
While the ending seems to not make sense, it takes a creative mind to understand the underlying themes that come to a close. While they do not get rid of the babadook, they learn to live with it. Managing it as a cause rather than a symptom which it is believed to be at the beginning. 
Let's talk about acting first.  The casting was perfect for this movie. Personally, I'm not a fan of child actors, but Noah Wiseman may be the best child actor of his age group. Not only does he slip into his character well, but he seems to have such a strong mother/son relationship with his co-star, Essie Davis. 
The visuals are perfect for creating suspense and insight into the head of the main character. While a few of them may be corny, the few appearances out of the corner of the screen or undefined figures of the babadook are very offsetting. They also lend themselves as a tool to create different narratives, whether the audience interprets them as Amelia going insane or the babadook being a real and present threat. 
Not only were the visuals off putting and suspenseful, but the score is as well. Specifically, how the score is  used; this has to be my favorite ingredient to this movie. The underlying music is so subtle that the audience doesn't realize there's even music until it abruptly ends, which is fascinating. Because of the abrupt end, it leads me to ask the question "what else did I miss?" 
For those who like a bit more substance to their horror plotline, this movie is perfect. The plot paints a beautiful, realistic picture of grief without the sappy bow to wrap it all up. 
Leave a Comment
About the Writer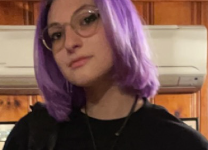 Cat Martino, Staff Writer
Cat Martino is a senior and a first time writer for The Bobcat Prowl. She is very passionate about the arts. She is excited to improve her journalism skills and meet new people. Outside of school, you...