Letters from the Presidents
Fox 61

Over the summer of 2022, I, on the behalf of The Prowl, began to write a series of letters to the leaders of all the world's countries. YES, ALL the world's leaders. In each letter, I asked one question: what would you want the young people of America to know about you or your country? Much to my surprise, letters came pouring in from around the globe.

My inspiration for this project was my strong desire to land a career as a diplomat. I simply figured that if I could start connecting with important people early enough, I might be able to get my dream job. However, I couldn't have predicted just how much my worldview would expand and how much I'd learn. 

To begin this project, I made a spreadsheet. Before you inevitably stop reading, please hear me out. On this spreadsheet I gathered the addresses, names, and titles of all 196 presidents, prime ministers, kings, sheiks, and others. 

Once all of this data was collected (and it did take a while), I began to write out the same standard message with each leader's respective information. During my previous research I found that addresses for 10 countries' rulers were not public or known, which brought my total letter count down to 186. 

After completing nearly a full week's worth of researching and writing, I brought the finished 186 letters to my local blue USPS Collection Box and sent them on their way. Then came the hardest part…waiting. 

Finally, after weeks of waiting, the first responses arrived. Below are just the first few answers to the questions I received, I do intend on making a follow-up article on every letter and email I received at a later date. These are the answers that they want you to know about their countries. 

An email from the Office of the Prime Minister of Trinidad and Tobago, Paula-Mae Weekes, was sent to me in late June. According to her office:

"Trinidad and Tobago is a small nation with a very diverse population including a small indigenous population and the descendants of European colonizers, enslaved persons, indentured workers from West Africa, India and China. Our National Anthem says "Here every creed and race find an equal place" and we strive always to live out this ideal"

Prime Minister Weekes' Office wished me all the best and mentioned her desire for me to visit her country in the future.

A few days after the first email, I received one from the Office of the President of France, Emmanuel Macron. According to his office:

"France, the land of the Enlightenment, is a country where men and women from all walks of life have been able to emancipate themselves and ignore their personal histories to embrace their destinies and thus rise to the most noble missions and functions which still today command the admiration of an entire Nation."

President Macron's Office thanked me for the gesture of the letter.

Next came an email from Xavier Bettel, the Prime Minister of Luxembourg. According to him:

"We're a truly diverse, international and overall open country. We don't just have three official languages (Luxembourgian, French and German), but almost half of our 645.000 inhabitants have a foreign nationality. The size of our [country] makes exchange with nations from around the world indispensable for our economy to flourish and our society to thrive. We are in fact one of the countries that have the friendliest feelings towards the European Union, was a founding member of the EU and actually host some of its institutions, such as the European Court of Justice."

Prime Minister Bettel additionally wished myself and the writers of The Prowl the best in our future endeavors. 

The first physical letter that arrived was from the Office of the Prime Minister of Barbados, Mia Mottley. According to her office:

"While physically small, Barbados is a tropical island rich in its culture, history, and environmental diversity… What I want the young people in America to know about Barbados is that we too want to help create a better future for the world, but we also require help from the largest and most powerful nations on earth, to fight the global issue that is the climate crisis. Every effort counts."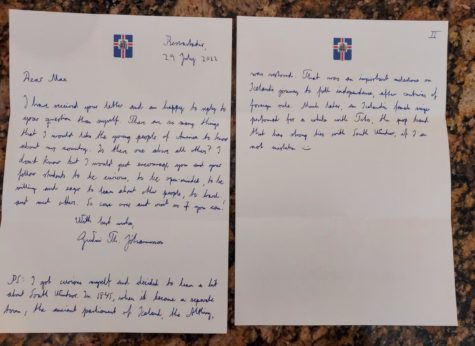 Prime Minister Mottley's Office wished me the best in my aspirations to become a diplomat, in addition to suggesting that I visit her nation at some point.
After a brief hiatus of receiving responses, I got a physical letter from Jacinda Ardern, the Prime Minister of New Zealand. According to her:
"Our history is peppered with the achievements of incredible women. We were the first country to give women the right to vote (in 1893), we had the first registered nurse (Ellen Dougherty in 1887), and the first woman to represent her country at the League of Nations (Phoebe Myers in 1929). We had the first female Anglican Bishop (Penny Jamieson in 1990) and the first transgender Mayor and MP (Georgina Beyer in the 1990s). 
Prime Minister Ardern said that she'd love for me to visit her country someday, in addition to wishing The Prowl all the best. 
Shortly after, I got a letter from the Office of the President of Portugal, Marcelo Rebelo de Sousa. According to his office:
"Portugal is a European country, open to the world and to young North Americans, which respects and cherishes different cultural identities… It is also a land of opportunities: academic opportunities, with excellent universities open to international students; employment opportunities, with numerous companies of international importance operating from Portugal; and a country open to digital nomads, combining employment advantages and the possibility of enjoying our natural heritage." 
President Sousa congratulated me on the letter writing initiative, in addition to mentioning how important such a project is to promoting multiculturalism. 
Towards the end of summer, I received a hand-written letter from the President of Iceland,  Guðni Th. Jóhannesson. In his letter he wrote: 
"There are so many things that I would like the young people of America to know about my country. Is there one above all others? I don't know but I would just encourage you and your fellow Americans to be curious, to be open minded, to be willing and eager to learn about other people, to travel, and meet others. So come over and visit us if you can!" 
President Jóhannesson also included a personal note about the many connections between South Windsor and Iceland. One of the examples he explained was that a drummer from the band Toto was from South Windsor, while one of the singers was Icelandic, explaining how interconnected two different places truly were. 
After the first day of school, I got an email from the Diplomatic Office of the President of Cyprus, Nicos Anastasiades. Instead of directly answering the question via email, the Diplomatic Office is currently connecting me to the Cypriot Embassy in DC for a phone interview. I will write an update about this call once it occurs. 
Towards the end of the first week of school, I received a letter from the Prince of Monaco, Albert II. In his letter he wrote: 
"Monaco is one [of] the smallest [countries] in the world nestled on the beautiful Western Mediterranean shore. My family has been ruling this nation for the last 725 years. We are lucky to live in a prosperous, safe country where we look after our own people in terms of social security, education, health, and housing. We have a total population of nearly 39000, and we are home to some 140 different nationalities."
Prince Albert II wished me the best, in addition to inviting me to tour his house – the royal palace – should I ever visit Monaco. 
I believe that the key takeaway from this project was that despite how different people from the far sides of the world seem, they are really no different from you or me. So as the President of Iceland put it, "I would just encourage you… to be curious, [and] to be open minded."
View Comments (6)
About the Writer
Max Schwartzman, Editor-in-Chief
Max Schwartzman is the Editor-in-Chief of The Bobcat Prowl Newspaper at South Windsor High School. He is dedicated to making our school's paper the greatest newspaper in the history of journalism, along with his excellent editor team and writers. When he's not running
The Prowl
, Max can be found volunteering for various non-profit organizations, walking his rescue dogs, or struggling with math homework. Max has set his sights on a career in diplomacy and foreign service, and he's willing to do whatever it takes to succeed.