UConn Uproars
Protests erupt after Governor Lamont announces decision to cut UConn's budget by 360 million dollars over the next two years.
On February 15th, Governor Ned Lamont announced a decision to cut an estimated 360 million dollars out of UConn's budget. This decision has the potential to raise tuition upwards of $3,000 dollars per year. As a result, hundreds of students have been gathering around the campus holding signs saying, "Education Shouldn't be a Debt Sentence," and, "Education Rights Equal Human Rights." 
These protests are clearly a direct result of the governor's plan. If passed, the plan will cut $160 million in the upcoming fiscal year and $200 million in the following year. UConn's President, Dr. Radenka Maric, has called on Lamont to reconsider, stating that it could lead to a $3,000 tuition hike for students starting next year. 
On February 15th, hundreds of students took to the capitol building holding signs that read "Save UConn," "Fund our Future" and "Defund UConn PD." They entered the Legislative Assembly building and walked underground to the Legislative Office Building. 
UConn students were seen wearing red "#SAVE UCONN" t-shirts while entering the Education Committee's hearing on February 14th at 1pm. This included Maric and Jeffrey Geoghegan, the chief financial officers for both UConn and UConn Health. They answered various questions posed by the committee including State Representative Greg Haddad, who represents Mansfield and Chaplin, Connecticut.
"
I know many people that $3,000 is just so much money that they might not be able to come to UConn anymore"
— UConn student Braden Migneault
During the committee hearing, Maric Geoghengan reiterated the claim that the university will have to raise tuition by $3,000. At about 3pm, students left the capitol returning back to UConn after which USG held a "#SAVE UCONN" afterparty. This event was held from 4 to 6 p.m. on the Student Union green.
However, many CT citizens do not agree with these protests. Jack Kronenwetter, a former UCONN student said, "The #SaveUCONN protest to go against the changes in the University of Connecticut's funding and tuition price is probably one the most embarrassing displays of student behavior I have seen in the two years I have attended the school."
Kronenwetter continued to explain, "The protest happened because people did not want to pay more for their tuition, but what they do not understand is that the rise in tuition is because the university's COVID-19 emergency fund was removed. There is no need for a COVID fund if there is no COVID emergency. The people who attended this protest did not understand what they were protesting for and most likely just went for a free meal brought by a company that catered food for the protesters. Personally, the only thing I will miss about this protest is taking down all the "Save UCONN" posters that I constantly saw around campus."
UConn officials said it would not cut programs but would look at non-academic costs to save money, including no longer playing basketball at the XL Center. That statement has presented another list of concerns because those games bring in big money to the area, which would impact local businesses. It also doesn't just bring in money, it brings in people, more people means more money, more satisfaction, and better vibes in the center. 
View Comments (1)
About the Writer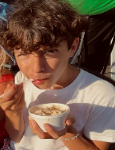 Andrew Kronenwetter, Staff Writer
Andrew Kronenwetter is a 15 year old sophomore at South Windsor High School. He lives off making people happy and driving with his friends.  Kronenwetter admires his family and prefers riding dirt bikes...