Should LGBTQ Kids Be Scared?
America is the land of promised dreams, but those dreams have been shattered for those of the queer community for decades. Two bills have recently been signed into law by Tennessee Governor, Bill Lee: SB0001, which prohibits gender-affirming care for minors, and SB0003, which prohibits adult cabaret entertainment from being performed in public. Some have dubbed SB0003 the "Anti-Drag Bill". Therefore, we ask, should LGBTQ+ teens be scared for their future?
Tennessee has recently passed a bill banning drag and transgender performances, as well as prohibiting gender affirming healthcare such as hormone therapy. Sadly, it is not the only state to do so. Other states that have banned this kind of health care include Alabama, Arkansas, Mississippi, Utah, South Dakota, and Arizona. 
While Connecticut is considered a liberal state, the wave of concern does not stop at our state lines. This sudden popularity in conservative ideology has queer students and allies worried about future policies. 
"Connecticut is a very solid blue state and any sort of anti-trans legislation would have low likelihood to pass," says Gabe Duarte, a senior who is an ally. "What I would worry about is the growing anti-trans sentiment and erasure trans genocide that is already taking place."
"
I am eternally grateful to be living in Connecticut; I'm grateful that I don't have to live through the hell my trans siblings have to deal with daily, but as long as I'm a transgender American, I am still in danger."
— Senior, Miguel Castillo
"I'm a child, and they want to kill me. That says enough about their priorities," said Castillo.
This is not a new epidemic either. In a 2015 trans survey, 46% of respondents were verbally harassed, 9% were physically attacked, and 47% were sexually harassed at some point in their life. On top of that, at least 32 trans people were killed last year alone.
Despite this, the trans and queer community refuse to be silenced. They are proud and here to stay.
If you feel strongly about this cause, there are many ways to raise your voice and become an activist. Sign petitions, attend protests, or even just educate yourself and educate others around you.
Together, we can make a brighter and more inclusive future.
View Comments (1)
About the Writer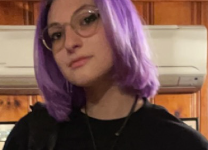 Cat Martino, Staff Writer
Cat Martino is a senior and a first time writer for The Bobcat Prowl. She is very passionate about the arts. She is excited to improve her journalism skills and meet new people. Outside of school, you...