'Midnights' Released at Midnight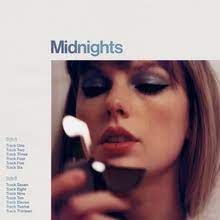 Thirteen tracks described by Swift as "the story of 13 sleepless nights", her 10th studio album 'Midnights' was announced at the 2022 VMA's comes as a shock to fans. 
Taylor Swift received 3 top awards at the VMA's this 2022 season for her short film, "All Too Well 10 Minute Version", but her fans were most excited about her album announcement. This new 13-track LP comes out October 21st, 2022. 
Fans are really excited about the new release, when sophomore Julia Jaworski heard the news  she "was watching the VMA's and I heard her announce midnights, I almost cried. I was so happy." 
The 13 tracks on 'Midnights' are a "collection of music written in the middle of the night", said Swift on her Instagram post of the album cover and a photo of her leaning over on a chair, which was posted on the night of the announcement. Swift is known to lay Easter eggs in her posts or interviews for fans to find, and 'Swifties,' as her fans are called, have been all over her post and release of this news. 
'Midnights' has been claimed by fans that it could be a sister album to her 7th studio album 'Lover' from 2019. This album was originally going to be released under the name of 'Daylight,' after a track on the album. People believe that she will go on tour with both albums as Lover-Fest was canceled in 2020 due to the COVID-19 pandemic. 'Midnight' and 'Daylight' are opposites of each other and that's what Lover and Midnights are looking out to be. 'Lover' is an upbeat pop album, and 'Midnights' is seeming to be the opposite as Swift posts on her Instagram, "a journey through terrors and sweet dreams. The floors we pace and the demons we face." Swift makes this album sound dark and in-depth of late-night emotions. 
This album is available for pre-order on her website in media including vinyls, CDs, cassette tapes, and digital downloads. The vinyls, CDs, and cassette tapes are special edition 'moonstone blue' color discs and records. The cover art is a picture of Swift with 70's inspired makeup with sparkly eyeshadow, thick liner, and red lipstick blowing out a lighter flame. This was all available for purchase an hour after her announcement of the album.